Water Chestnut flour(सिंघाड़े का आटा)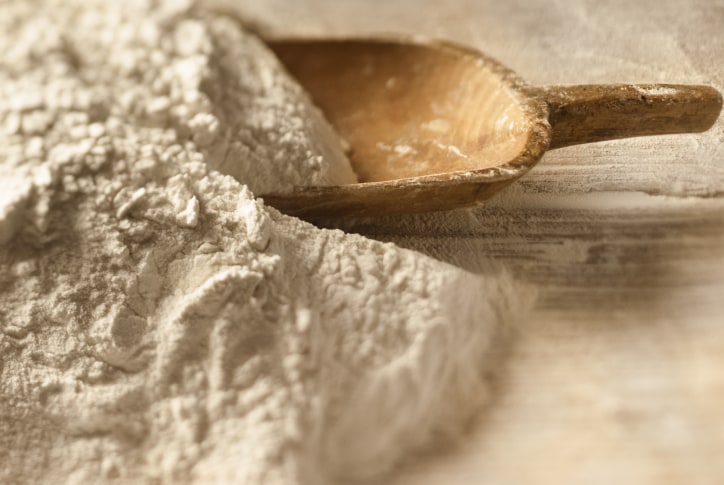 Hindi Name: सिंघाड़े का आटा

It is the by-product from the water chestnut seed. The flour is grounded from the dried ground water chestnuts. For preparing the flour, the nuts are peeled, boiled and finally crushed into flour. It is actually a form of starch.

The flour has a bright white colour and is starchier by texture. Singhara atta is used as a thickening agent while cooking. In the Asian culinary, it is used to make batter for deep-frying.

Singhara flour is famously used on Hindu festival days, especially during the Navratras. Store is in a covered container in a cool, dry place.

Usage

It is used for chappatis, paranthas, sweets, vadas, pancakes and other dough based recipes. It is used as a staple item during fasts. Singhara atta puris, halwa, pakoras are some of the delicacies relished during the Navratri fasts. Water chestnuts form a part of the phaldari diet followed during these fasts.

It is used as batter when deep frying or as a thickener. It can also be use din recipes for cakes, bread and cookies. The flour needs to be combined with potatoes for binding.

Milk vendors mix the flour in milk using it as a milk creamer. In most of the recipes, you need to combine this with boiled potatoes or colacasia, for binding.

Nutritional Value

Singhara flour is gluten free with a glycaemic index of 60. Since the flour is a heavy appetizer, it aids during fasting, also providing essential nutrients. Water chestnuts are dense with potassium and fiber. It barely contains any sodium or fat though water chestnuts are high in carbohydrates.

Tip:When used as a thickener, stir in water before adding to hot sauce or liquid to reduce lumps.

Recipes using Water Chestnut flour