Yam(जिम्मीकंद)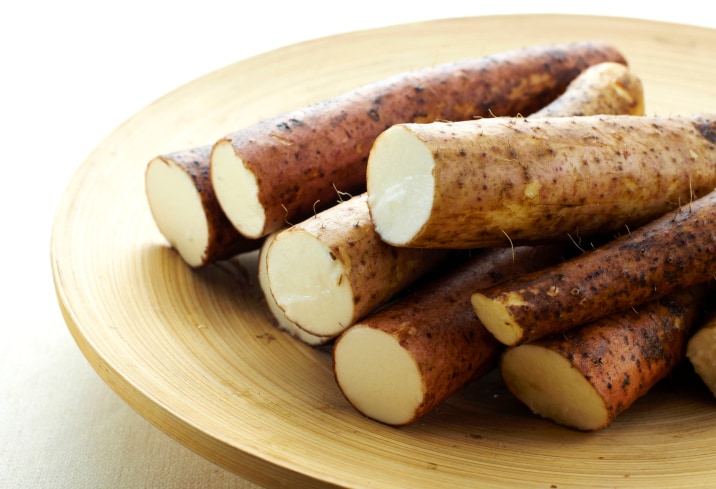 Hindi Name: जिम्मीकंद

Yams are forms of starchy edible tubers. It is a versatile vegetable. It has a hard brown skin with a starchy flesh inside. Yams are cultivated for their starchy tubers in countries like Africa, Asia, Latin America, the Caribbean and Oceania. Yam flesh is generally white, ivory, yellow or purple in color and its skin is white pink or brownish black in color.

Types

Some of the most common types of yam are, "Yellow yam" found in Africa, "Water yam" cultivated in Southeast Asia. The "air potato" is cultivated in Africa and Asia. It grows up to the huge size of 6 meters (20 ft) or more in length than African yams. The bitter yam, are found in parts of West Africa. One characteristic feature of this yam is that its cultivation requires less labor then others.

Storing

Some points must be kept in mind before storing yams. The yams should be sound and healthy when brought. It should be properly cured with Fungicide treatment. The respiration of the tubers of yam generates a lot of heat. Hence it ought to be stored in a place where adequate ventilation is possible. Yams should be regularly checked and the rotten tubers and sprouts are to be removed. The yams should be stored in a place which is away from direct sunlight and rain.

Nutritional Value

1. Yam contains potassium, vitamin B6 and vitamin C, manganese and dietary fiber. Yam is low in saturated fat and sodium. Yam being high in potassium and low in sodium balances the potassium-sodium ratio in the body protecting it from osteoporosis and heart diseases.
2. African yam contains thiocyanate which protects against sickle cell anemia.
3. Yam is rich in starch and can be prepared in many ways. Yams are also cultivated throughout the year unlike many seasonal fruits.

Uses

Yam can be barbequed, fried, roasted, grilled, baked, smoked, grated and used in desserts. Yam works as an alternative to hormonal replacement medicines which are in taken by the menopausal women.

Did you know?

Some yam varieties can be stored without refrigerators up to six months, which helps in time of food scarcity in some countries.