Photo Credits: facebook/farzicafe
Farzi cafe, situated in the heart of Gurgaon Cyber Hub, is an Indian Fusion cafe. The idea of Farzi cafe is to 'create an illusion' with its cuisine. Its main aim is to bring back the Indian cuisine 'in-vogue'. With tasteful interiors and amazing presentation of food, Farzi cafe is perfect for an outstanding culinary experience.
Farzi Cafe address
: 7-8, Ground Floor, Cyber Hub, DLF Cyber City, Gurgaon, Block East, UG 14, Block F, Sushant Lok III, Sector 57, Gurgaon, Haryana 122011Farzi cafe was launched in 2014 and is really one of a kind. It's a chic Indian cafe where guests experience the finest of gourmet food. The menu is quirky and manages to spark a sense of nostalgia: Posh Maggi, the Gupta Burger or even the Chicken Tikka Masala served in a London style telephone booth, they've given it all a really interesting spin.
Farzi Cafe menu
: Some of their popular dishes include Chicken Tikka Masala , Amritsari Fish & Chips, Prawns With lime & Chilli Froth, Vada Pav, Herb Crusted Paneer Tikka, Chilly Duck Samosa. They've also got Mishti Doi Shots which serve as a palate cleanser. For desserts, you've got Parle G Cheesecake, Phirni Oxide and Rasmalai. And their list of creative drinks includes Farzi OK, Italian Smooth & Panna Lichi.Farzi Café is best described as a gourmet Indian culinary experience, showcasing traditional global cuisine with Indian classics. But what gives Farzi Cafe its competitive edge is using a balance of traditional Indian and modern Western culinary styles to offer a truly gastronomic experience.After getting to know all there is to know about this spunky Indian cafe, you're probably running through your calendar to see when can you march your way to Cyberhub. But in the meantime, what you can do is cook one of their brilliant dishes at home.Here some deadly recipes that'll make the wait totally worth it.
Sarson Ki Gilawat with Corn and Cheese Tostadas
This fancy dish is a spinach kebab served with some divine tostadas! Don't miss out on the
masala
popcorn.
Tandoori Portobello Hotpot with Walnut Dust
A cheesy blend of mushrooms and
makhni
gravy, served
tandoori
-style. The walnut crumbs add a lovely crunch to the texture.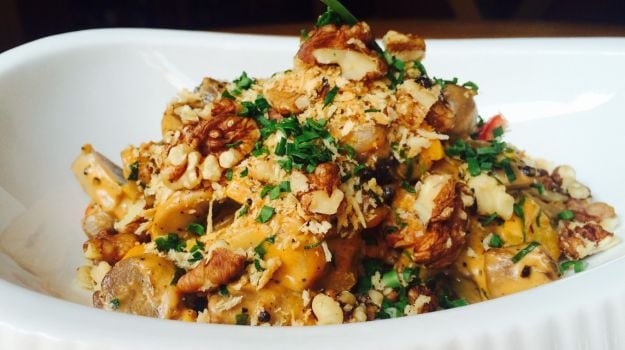 Spaghetti Shot
Spaghetti shot is a quirky way to serve a delicious concoction of gin, red wine and cointreau. Also, the sweet after taste of red wine cooked grapes linger long after you down the shot!