Story Progress
Back to home
Spaghetti Shot Recipe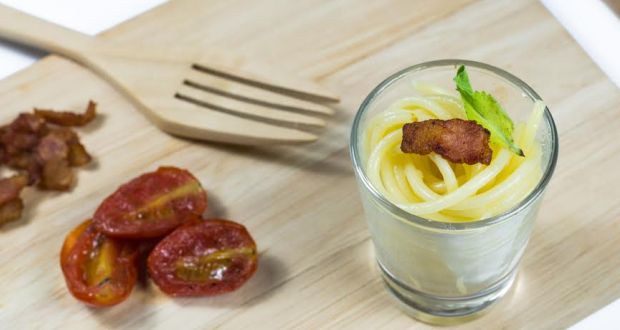 Spaghetti shot is a quirky way to serve a delicious concoction of gin, red wine and cointreau. Also, the sweet after taste of red wine cooked grapes linger long after you down the shot!

Ingredients of Spaghetti Shot
500 ml orange juice
5 gm agar
90 ml gin
15 ml red wine
15 ml cointreau
Cold water
Grapes cooked in red wine for garnish
1.
Heat 500 ml of orange juice with 5 gm of agar as the mix is boiled.
2.
Then add 90 ml of gin in it.
3.
Mix it properly and fill in spaghetti mold and leave it for 5 minutes in cold water.
4.
After that release it by the help of air pressure through a syringe then fill it in to a shot glass.
5.
Pour 15 ml of red wine reduction and 15 ml of cointreau.
6.
Serve with grapes cooked in red wine over the top.