Story Progress
Back to home
Tandoori Portobello Hotpot with Walnut Dust Recipe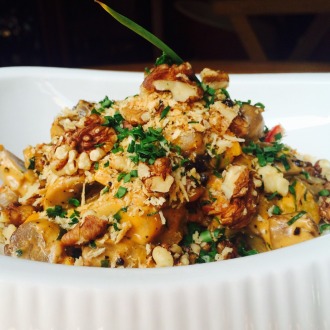 A cheesy blend of mushrooms and makhni gravy, served tandoori-style. The walnut crumbs add a lovely crunch to the texture.

Ingredients of Tandoori Portobello Hotpot with Walnut Dust
200 gm portobello
250 gm fresh cream
30 gm Philadelphia cheese
50 gm yellow butter
20 gm Panko bread crumbs
20 gm roasted walnuts
30 gm chopped onions
15 gm chopped garlic cloves
5 gm chopped green chillies
30 gm grated parmesan cheese
30 gm makhni gravy readymade (optional)
5 ml truffle oil
10 ml refined oil
20 gm chopped bell peppers (red and yellow)
10 gm crushed black pepper
Salt to taste
1.
Wash portobello and marinate it with half quantity of fresh cream, philadelphia cheese, salt and pepper.
2.
Cook in OTG at 200 degree celsius for 10-12 minutes until it is golden brown.
3.
Cut portobello into halves and let it cool.
4.
Take refined oil in a pan.
5.
Sauté garlic, onion, green chillies, and bell peppers.
6.
Add makhni gravy and cook for a minute.
7.
Add cooked portobello with remaining half of cream. Adjust seasoning.
8.
Finish with chopped coriander and truffle oil.
Method for walnut dust:
1.
Take soft butter in a non-stick pan.
2.
Add panko crumbs. Sauté the mixture until crumbs turn yellow in colour.
3.
Add walnut and continue cooking on slow flame. Let it cool.
4.
Mix grated parmesan cheese.
5.
Serve Tandoori Portobello hotpot, topped with walnut churra.