Swap Unhealthy Food Ingredients With Healthy Ones
IANS , New Delhi | Updated: May 23, 2014 13:36 IST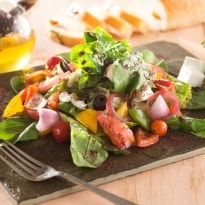 There are multiple options at home that can make your meal wholesome and complete without compromising on taste, says an expert.

Rohan Arora, founder and CEO of Bueno Foods Pvt. Ltd. (food outlet in Gurgaon that provides healthy food options) shares names of some of the healthy ingredients that can be used at home:

- Low fat cottage cheese prepared at home instead of the packed and processed ones that we get in the market.

- No tinned fruits and vegetables.

- Whole wheat with extra fiber instead of white flour (maida).

- Fresh herbs like basil, thyme, rosemary, garlic, oregano (dried), coriander, mint, parsley and freshly ground and whole spices like cinnamon, cardamom, chilli flakes and chillies instead of the crushed processed ones.

- Honey, brown sugar and jaggery instead of packed white crystal sugar.