Other people
travel
to shop, relax, be entertained, participate in adventure sports, get pampered senseless at a series of spas and hotels or sightsee. My primary motive for visiting a new place is to go market hopping. No. I don't actually need to buy anything. I just walk about with my camera at the ready and my eyes and ears open (and my nose twitching). It is inexpensive, it is much more fun than actually giving your credit card a workout at the Gucci store in downtown LA and you'll usually see a facet of a new town whose existence you will never dream of unless you are looking for it. So, here go a few of my favourite
food markets
across the country.
1. Floating Vegetable Market, Srinagar
The most exotic and unmissable of them starts at the crack of dawn, or soon after the
fajr
prayer early in the morning, so it means waking up at least half an hour before that. In Srinagar, on the Dal, there is a space that is notable for the vegetable market. Too early, and you won't be able to see a thing. Too late, and it's all over. But the key is to book a
shikara
the previous evening and get there on time. Plan to spend at least an hour at the market. Every buyer and seller arrives by
shikaras
without the roof. Buyers are the ones with empty boats; sellers come laden with their produce, grown exclusively on floating beds of soil on the lake. Tomatoes, pumpkins, collard greens, bottle gourd, aubergine – you name it and it is grown here. Each season sees different vegetables being grown and the sheer dexterity with which buyer and seller navigate through a 'traffic jam' of around 50 boats, never banging into one another. By the time the market ends, buyers row off with laden boats and sellers with emptied boats. If you find a more magical, compelling, photogenic market, I'd like to know!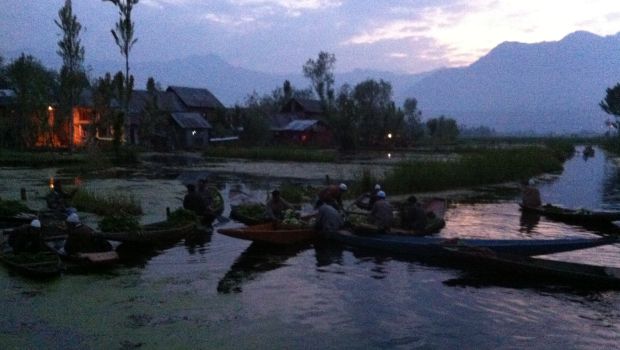 2. Pineapple Market of Nongpoh, Meghalaya
Just as high on the exotic factor is the pineapple market of Nongpoh, famous for being a mid-way halt for vehicular traffic between Guwahati and Shillong. Ever since my teenage years, way back in the 1970s, Nongpoh was famous for its pineapples. Sensuously ripe and juicy and literally bursting with flavour, they are the finest specimens I have tasted, within South and South-East Asia (though I have not, I confess, been to Hawaii). First of all, the 30-odd shops on the side of the main road are manned by women in traditional dress. They are mothers, grand mothers and aunts to a succession of tiny toddlers, and selling pineapples and a series of gigantic root vegetables happen together with cooking for the toddlers and feeding them, while doing business without apparent help from the men folk.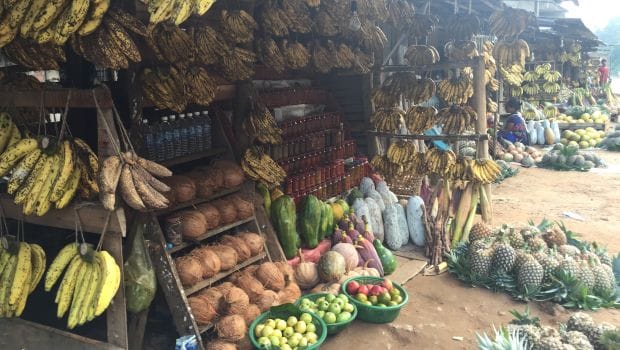 3. Gadodia Market in Khari Baoli, Delhi
I have sought out spice markets all over the world, but never have I ever come across one that has socked me between the eyeballs as much as Gadodia Market in Khari Baoli, at the end of Chandni Chowk. Once a gracious
haveli
, its spacious courtyard has been built with a warren of rooms, and the
haveli
itself portioned off into offices and dingy rooms where out-of-town workers toil over grading red chillies from all over the country. It is the red – and the much smaller quantities of yellow – chillies that 'perfume' the market with harsh fumes that make everyone who enter it cough and splutter, including the hapless coolies, laden with sacks on their shoulders.You'll also find asafoetida, cumin, coriander seeds, turmeric and dried mango among other spices, but
red chillies
are the kings here. Climb the stairs at each corner of the main building and go as high as you can: you will reach a spacious terrace where the cacophony recedes and the striped dome of the Fatehpuri Masjid is right before you, with flocks of pigeons flying, while far in the distance is the Red Fort.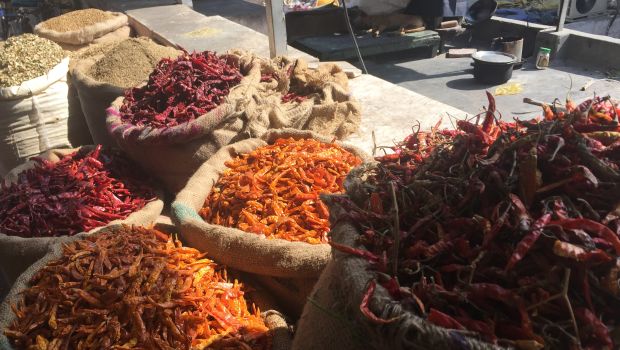 4. Fish Market, Thiruvananthapuram
Far away to the south, at the furthest tip of peninsular India is Tiruvananthapuram's
fish
market. Rather unlike any other similar operation you may have seen, this one is a raucous auction that is held from fishing boats while they land: on the shore, dozens of fishermongers clamour for attention, signalling their approval or vociferously bargaining at the beach, while hundreds of baskets are prepared to be taken to the markets. The sloping sandy beach, the church, temple and mosque some distance away and the complete absence of the odour of seafood makes this a wonderful place to observe local culture and feast your eyes on dozens of varieties of fish.Also Read: (
5 Health Benefits of Eating Fish, Beyond the Delicious Flavour
)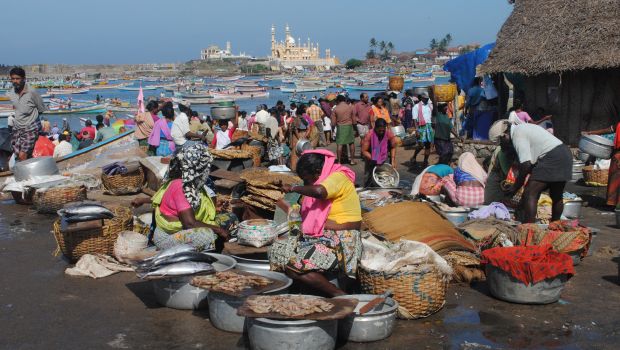 5. Friday Market at Mapsa, Goa
While all of these are strictly for business, the Friday market at Mapsa, Goa manages to accommodate sight-seers, tourists and locals in one glorious mix. So, some shoppers make a beeline for the little old ladies who bring limited quantities of home-grown lady fingers and custard apples while others march purposefully to the stalls selling dried fish and prawns, kokum and teflem: the last being the country cousin of the Sichuan
pepper
which is indispensable in certain Goan curries. This is one market that does not have a speciality. You can buy home-made toddy vinegar, home-cured Goan sausages, coarse
sea salt
and fat 'red' rice as much as terra cotta cookware and coconut-shell spoons. You can try on golden slippers, bargain for Goan sweets like
pinag
and
dodol
(no,
bebinca
is not the only sweet that tickles the local fancy), return laden with Goa's famous red chillies or shop for bright, colourful lengths of fabric.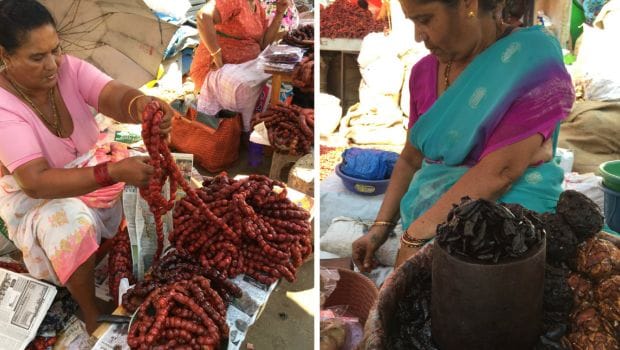 6. Namkeen Market at Amer, Jaipur
The one curiosity market just has to be the namkeen market at Amer, Jaipur. Once upon a time, Amer was the only habitation, while Jaipur had not even been planned. Now just the fort remains, along with Jaigarh and Nahargarh and the pile of ruins at the base of the fort. The namkeen market is hardly visible to most tourists, being in a narrow, steep, sharply curving lane. Both sides are lined with shops selling identical savoury snacks, all made from besan. What differs is the thickness. The story goes that one man started selling namkeen here and was soon joined by various members of his extended family. To each, he gave the exact recipe, which is why, to this day, every shop sells the identical array of namkeen, down to the same spicing and thickness. And, when you linger at one shop, there's no frenzied calling out from the others.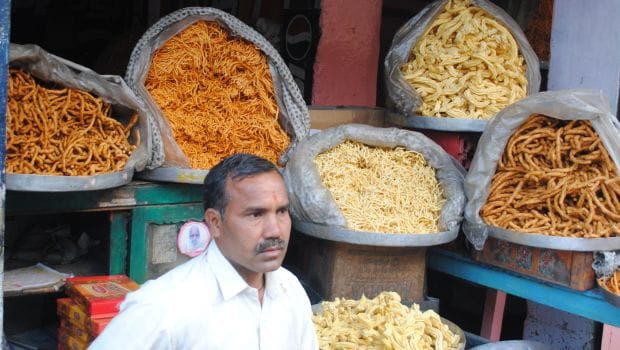 About the Author:
Marryam H Reshii has been writing about food and lifestyle for a quarter of a century! She travels around the country to far-flung tribal villages and long-forgotten corners in search of elusive ingredients, obscure cooking vessels and recipes that are in danger of being supplanted by 'modernity'.
Disclaimer:The opinions expressed within this article are the personal opinions of the author. NDTV is not responsible for the accuracy, completeness, suitability, or validity of any information on this article. All information is provided on an as-is basis. The information, facts or opinions appearing in the article do not reflect the views of NDTV and NDTV does not assume any responsibility or liability for the same.