It is the season of mango, and what better opportunity to take full advantage of this and indulge in some lip-smacking treats! Growing up in a country like India makes you familiar with a variety of cuisine, as every region here has its own style of preparation. Depending on the area, culture and local produce, the food habits are distinctive. In addition to a wide range of main dishes, a lot of accompaniments and pickles form an integral part of Indian meals.


Talking about pickles, we stumbled upon a delicious preparation of the good old 'aam ka achaar'. The cook is none other than actress Sameera Reddy's mother-in-law, Manjri Varde. The duo's cooking sessions are a rage on social media. They keep their fans and followers entertained with their candid interactions. Most of their videos are posted on Instagram under the title "Messy Mama and Sassy Saasu". Take a look at one of their videos shared on Reels:
(Also Read: Coconut Water To Ghee - Foods That Helped Sameera Reddy Tackle Post-COVID Weakness)


In a recent Instagram story, Sameera Reddy took her followers through her mother-in-law's mango pickle "Mmmm. Sassy Saasu making something yum," wrote Sameera, and also tagged Manjri's official Instagram handle.


Mango pickle is an accompaniment which is perfect to spruce up a full-fledged meal. Pair it with piping hot parathas or just have it with some dal and rice. This mouth-watering accompaniment is very easy to make at home. Click here for the recipe. It takes about a month for the contents to be tender. If stored in an airtight container, it can be consumed all year long.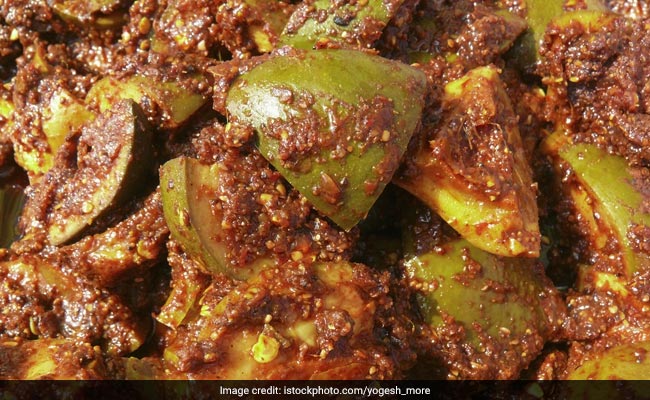 Another version of the mango pickle is the Kachya Ambyache Lonche. This delicious and tangy pickle, made from raw mango and a host of spices, is a great accompaniment to any meal. Make in larger quantities and store it in a cool place in a sterilised jar, and it will last for months. That way, you can enjoy the flavour of mangoes even after the season is over.


Another way you can make mango pickle is by asafoetida or heeng as a game-changing ingredient. Here's the recipe.


If you want the spicy and delicious flavour of raw mango and onion to set your taste buds palpating, try the Kairi Aani Kandyache Takku (Grated Raw Mango & Onion Pickle) recipe. A dash of jaggery balances the tangy and sweet flavours.


With these mango pickle recipes, you will never be out of achaar at home. So, which of these pickles will you try next?