Sweltering city hosts festival featuring more than 40 recycled refrigerator art installations dotted around Darwin

Dubbed "the world's coolest festival", Darwin's celebration of fridges began as a typo.
For 10 days across October and November, more than 40 recycled and reworked refrigerator artworks liven up the Darwin Waterfront park and airport. The community festival encourages anyone to enter an art installation using old refrigerators.
Organised by the Darwin Community Arts organisation, the idea came about by accident.
"They were organising the Darwin Fringe festival in 2009, and they received an email with an inquiry, but it had a typo," festival organiser Oldrich Dubsky told Guardian Australia.
"My colleagues had already been thinking about starting a festival featuring recycled art and about sustainability, and they were like 'oh, fridge festival, recycled art, that works'."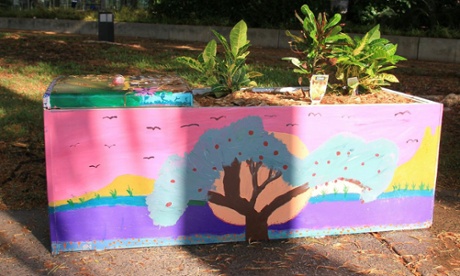 Some entrants pay tribute to pop culture, such as Peter Dowling's white good-turned-yellow submarine, or Dean O'Donoghue's tribute to Doctor Who - Time and Relative Dimension in Fridge (Tardif).
Others make a political statement, such as Migration Story by asylum seeker advocacy group Dassan, who have decorated a fridge inside and out to make a statement about Australia's immigration policies.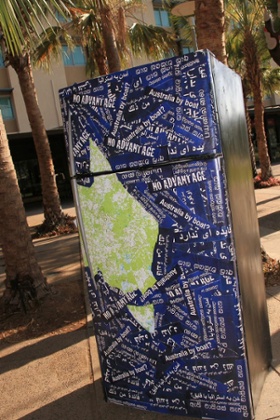 Others touch on local and international topics of varying seriousness: domestic violence, suicide prevention and West Papua.
Dubsky said the festival had grown from a few exhibits in a shopping centre car park to occupying prime positions on Darwin's waterfront and at the airport, and a full program of music and arts events.
The fridge artworks will be judged at the end of the week, including a people's choice award.
Doctor Who in Darwin: Time and Relative Dimension in Fridge (Tardif) by artist Dean O'Donoghue. Photograph: Helen Davidson/Guardian Australia