Serene sands … Ashvem beach, by the Palm Grove Beach Resort, Goa. Photograph: Eva Kvie
A break in Goa can be much more than just a holiday on beautiful beaches: the Indian state has a fast-developing food and drink scene that embraces local and international flavours, as well as stylish modern hotels and ancient traditions.
Though it has changed hugely over the last couple of decades, Goa still has much to offer, especially for those in need of a blast of sunshine at this time of year. The hippy days are over, but Goa has evolved, so while Anjuna and Vagator beaches join Calangute in the file marked "overcrowded", a heavenly relaxed beach vibe can still be found elsewhere: on the sands of Ashvem-Mandrem, for example, and in the bays and beaches of the far south.
South Goa is sleepier than the north but what it lacks in cosmopolitanism it makes up for in natural beauty; the beaches and fishing villages of Canacona are set in a truly stunning landscape. There are dozens of yoga and wellness experiences, plus historical Portuguese and Goan heritage homes inland.
And one of the best reasons of all to visit now is the brilliant food scene that is developing in north Goa. It is one of the most exciting in India: a modern cuisine with a combination of local, national and international influences but with an identity all its own. And there are countless places to try it.
Where to eat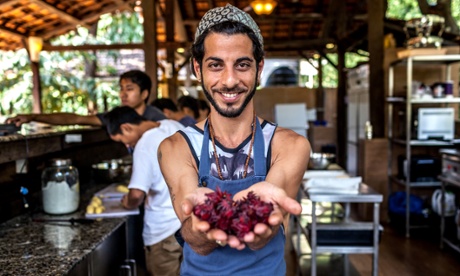 Matsya Freestyle Kitchen, Samata Holistic Retreat Center, Pernem
Israeli chef Gome Galily has worked at top restaurants Noma and Nahm, yet he's a Goa-kid at heart, and spends a lot of time here. As with Bhatti Village, there's no menu but that's where the similarities end. Booking is mandatory: you discuss food preferences and after that, Gome does his mind-blowing thing. On our last visit, I had tuna tataki, mussels and red snapper ceviche with yuzu, miso aubergine caviar and beef tataki with Jerusalem artichokes.
• Four-course menu £13pp, seven-course £21.60pp, +91 839 091 8385, samatagoa.com
Bomras, Candolim
Owner Bawmra Jap's Burmese-influenced global cuisine regularly tops best-of lists. Chopped rockfish in banana leaf with wakami and black fungus, and Aldona pork with pumpkin wasabi mash and spinach were, for me, standout dishes. Otherwise go for the exquisite pickled tea-leaf salad and ridge gourd tempura accompanied by a lip-smacking tamarind margarita.
• Meals for two from £11, +91 976 759 1056, bomras.com
Bhatti Village, Nerul
This cosy, traditional, Goan Catholic taverna also happens to be the go-to joint for some of the state's best chefs. There's no menu: co-owner Patrick D'Souza will tell you which dishes his wife Merciana is cooking on the day, which may include fried whitebait, roast beef, and Goan classics like chicken cafreal, pork vindaloo and fish curry. Trust his judgment, enjoy the atmosphere, and definitely try the local spirit, caju feni (made from cashew apples). Reservations are recommended.
• Meal for two from £5.50, +91 982 218 4103, no website
Le Roi Arthur, Verla Canca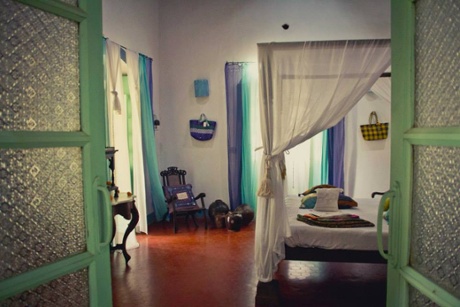 This is a stunning French open house, boutique and restaurant run by owners Melyssa and Romain, and is still a bit of a secret. Drop in and look around, or call before to speak with Romain about dining options: he prepares meals according to budget and taste.
• Case Zuzuarte, Naika Waddo, Verla Canca, +91 976 703 8901, leroiarthurgoa.com
Go with the Flow, Baga
Brazilian chef Guto Souza's lively restaurant is definitely a hotspot. There are decent seafood options and quality sushi, but meat is where Guto's heart lies: with a delicious pork belly, knockout steak, and plenty of other beef dishes, such as strips you barbecue yourself at the table. All profits go to the Samarpan Foundation charity.
• Meal for two from £11, +91 750 777 1556, gowiththeflowgoa.com
Sublime, Morjim
Chris Saleem Agha Bee is the hippy-raver-chef poster child of Goa, and his restaurant Sublime, now on Morjim Beach, is an institution, serving Goan-international fusion food for almost a decade. Chris is constantly experimenting with dishes and flavour combinations, so expect tandoori prawns over saffron fenugreek risotto and sesame tuna with sweet chilli, alongside the famous lychee lemongrass martini.
• Meal for two from £16.20, +91 982 248 4051, facebook.com/SublimeMorjim
Where to drink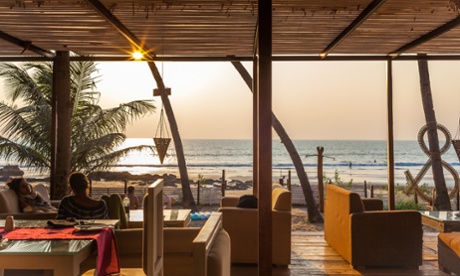 Elevar, Ashvem Beach
A sister venture to Sublime, Elevar is a cool beachfront bar and restaurant run by Sai, also a chef. Grab one of the ocean-view sofas and watch the sun go down in style with an incredible cucumber basil martini or the green-chilli-infused kokum special. It also serves one the best chicken thalis around.
• +91 98235 31102, facebook.com/elevarashvem
Cantare, Saligao
Tucked away in untouristy Saligao, Cantare is a sophisticated village bar in a renovated Portuguese house. Frequented by locals and in-the-know tourists, the singular atmosphere is a million miles from the crowded beach scene. The bar has wine and spirits ranging from local brews (from 90p) to exceptional, high-end international cocktails (up to £27), decent snacks and jazz nights on Mondays.
• +91 832 240 9461, no website
Katzensuppe, Vagator Beach Road
Starting at 10pm and running in to the early hours, this indoor club with an outdoor hangout area is one of Goa's best nightspots – attracting quality DJs and a smart crowd. The extensive cocktail list runs from classic to interesting (maple whisky sour, pineapple and sage margarita), and the drinks are all professionally made.
• Cocktails from £4.30,katzensuppe.com
Boomshankar, Canacona
Boomshankar isn't fancy but it has a big, old-fashioned beach cocktail list and the best sunset spot in Goa – with tables looking over the gorgeous Colomb Bay.
• +91 976 518 7294, goaboomshankar.weebly.com
Casa Xetio, near Cine National, Panaji
Opened in 1953, this hideaway is the authentic Goan bar experience. On the outside it looks like a small, old-world liquor store, but forget yourself, walk right behind the counter, take a seat in the front room or the hallway (complete with discrete exit to a side street), knock back some drinks and chat with owner Dilip and the locals. You can buy the antiques dotted around if they take your fancy and drink like a king for less than 200 rupees (£2.15). Do try the feni from Valpoi!
Where to stay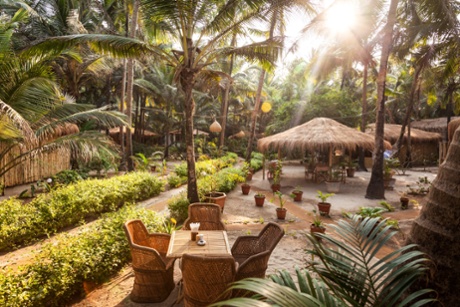 Palm Grove, Mandrem
This friendly and chic Scandinavian resort on Goa's finest beach is personified by its owner, Eva Kvie, who goes out of her way to help. Little Palm Grove, a sister resort 50 metres away, is a more private affair compared with Palm Grove's family-friendly environment but both have beautifully furnished cottages, reflecting the gorgeousness outside.
• Cottages from £92 B&B (open November-April), +91 965 706 3046, palmgroveingoa.com
Turtle Hill, Canacona
On the rise between south Goa's Colomb Bay and Patnem Beach, this private boutique property is split between beach rooms and two-storey hill bungalows, both with a luxurious south-east Asian feel, exceptional in design and decor. And the breakfasts are exquisite.
• Doubles from £87 B&B (open November-April), +91 942 125 7164, turtle-lounge.com
Amarya Paros, Morjim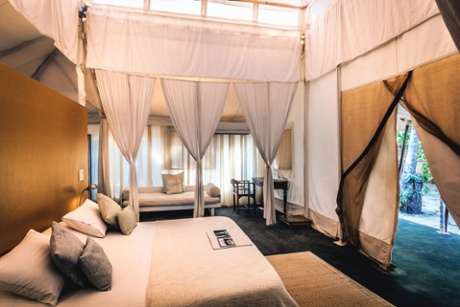 The French-owned Amarya Group offers some of the finest customer service in entire country, so you'll be well cared for by owner Mathieu while staying in its luxury Rajasthani tents (some of which are air-conditioned), a stone's throw from Morjim Beach. The upper deck restaurant serves an outstanding breakfast, as well as fine cocktails.
• Tents from £64, suites from £97 (open November-April), +91 982 389 2353, amaryagroup.com/paros-amarya
Jardim a Mar, Agonda
This is a German/Nepalese-owned resort on the relaxed, backpackers' favourite, Agonda Beach. You can choose between beachside rooms, village-side rooms and beach huts, each a simple bed-bathroom-mosquito net affair, retaining the old Goan feel (at old Goa prices) while offering good service, proper coffee and decent food in the charming communal area.
• Rooms from £7.50, huts from £12 (open year round), +91 942 082 0470, jardim-a-mar.com
Vivenda Dos Palhacos, Majorda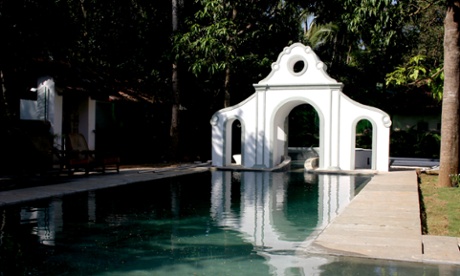 This converted Portuguese villa just 1km from Majorda beach has six guestrooms and bucketloads of personality. Sibling hosts Simon and Charlotte Hayward's family history in India stretches back three generations, and fills the hotel's walls and corridors. Charlotte looks after guests in the day, Simon at night, where the often-raucous (but non-compulsory) communal dinners provide a wonderful way of making friends and picking up the local gossip.
• Doubles from £49 B&B (open year round), + 91 832 322 1119, vivendagoa.com
Beach report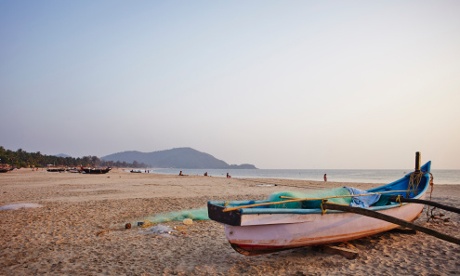 Agonda, Palolem and Patnem
The far south feels like another world sometimes. Aside from Palolem, which has become a bit of a monster of late, these beaches are quieter, and the scene is calmer – though food and drink are plentiful. The stunning south Goa coast from the Sal river to Agonda beach, on a winding hilly road takes in temples, coconut groves, fishing villages, the old fort of Cabo de Rama, and a host of hidden beaches. Rent a scooter or Enfield to best experience this beautiful land.
Morjim, Asvem and Mandrem
This stretch in northern Pernem has a combination of beautiful, relatively peaceful shores, and a modern, cool beach culture. Some of the smartest boutique properties are here, and this is increasingly the place for the hippy-chic crowd to eat, drink and party. It also has a strong yoga and wellness scene.
Central Goa
This region has long, empty beaches, dominated by five-star resorts. It's best for those looking for all-inclusive deals and comfortable holidays.
Anjuna and Vagator
The old hippy haunts have become increasingly commercialised and crowded but there are still good places to eat, drink and party, especially around Little Vagator.
Undeveloped beaches
Galgibag, Cola and Keri are three different beaches with one thing in common: there's still not so much there. Good places for an escape (avoid at weekends though).
Markets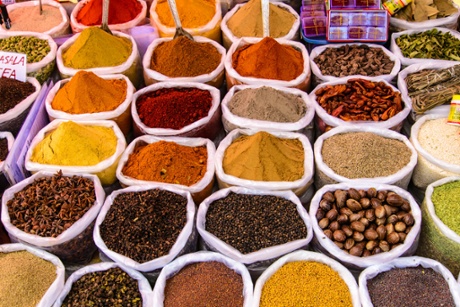 Mapusa
This town has a daily market full of fruit, veg, fish, bread, flowers, spices, clothes, street food and home goods. On Friday it supersizes, attracting a large number of traders from around the state. Go to experience the colour and bustle of real Goan life, and remind yourself that, yes, you are in India.
Anjuna
The Wednesday Flea Market (8am–7pm, facebook.com/Anjuna.Flea.Market) in Anjuna has been running for decades. It was originally a hippy meeting place, and though it has become increasingly busy, it still holds a certain charm and is worth a visit.
Arpora
In recent years the Saturday Night Market (snmgoa.com) in Arpora has taken Anjuna's crown, with a vibrant atmosphere, great designers, food (incredible rotisserie chicken), drink and music.
Heritage
The southern regions of Salcete and Quepem have a rich Portuguese legacy visible in the heritage homes. The Braganza Mansion in Chandor and the Figueiredo House in Loutolim are worth visiting. Panjim's Fontainhas and the 16th-century Old Goa are both interesting sites.