7 Unusual Punjabi Dishes I Tried in Amritsar
Shivangana Vasudeva, NDTV | Updated: March 14, 2018 17:27 IST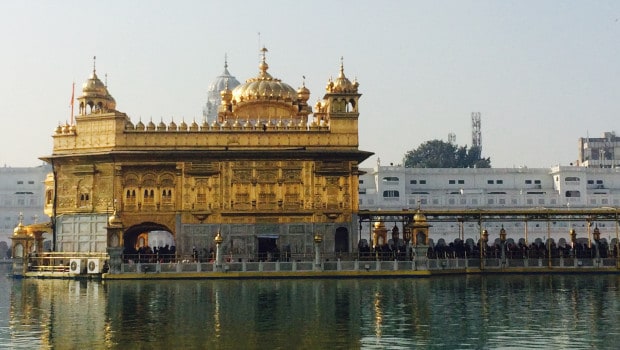 Amritsar is far more fascinating than is revealed by a quick holiday. Stunning scenery, ancient villages and the divine spirit of the Golden city will immerse you in a history that is as captivating as it is complex. It is a city of indulgence. The flamboyant Punjabi culture and a land blessed with abundance make food a large part of the experience of being in Amritsar. This time around, I got to taste a slice of the local life, courtesy Punjab Grill that packed us off on a journey to rediscover Punjabi food from the bygone era. The second edition of their experiential tour, Rangla Punjab took us through a city where the food finds you.

Our first destination was a quiet village near the Attari border where pieces of Amritsar and Lahore sit side by side fenced with army bunkers and a sturdy jamun tree – half of which belongs to India and the other half to Pakistan. Pul Kanjiri is a heritage site where Maharaja Ranjit Singh stopped to rest while travelling with his troops. The usual eeriness in the atmosphere was punctuated with the aroma of spices and marigold flowers sweetening the air. Chef Gurpreet Singh laid out a lavish lunch at a historic sarovar, little over a kilometer away from Pakistani land, built during the Maharaja's rule. The menu was a surprising reflection of cross-border influence. A common theme runs through my favourite dishes bringing back the soul into regional Indian cuisine.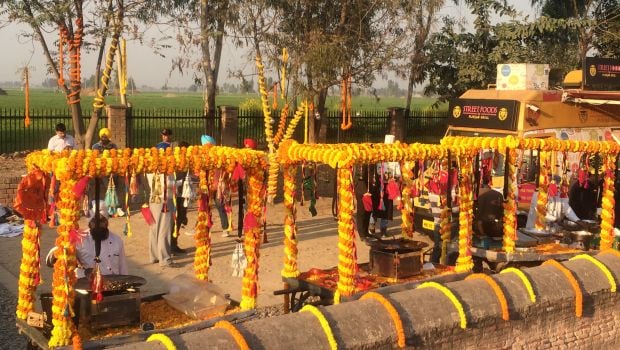 Lahorey Charga
Charga in pashtooni means chicken. A specialty of undivided Punjab, the chicken is marinated in spices, steamed and then deep fried. Golden and juicy with just the right amount of crispiness, this fried chicken lives up to this name. Chef Gurpreet tells me that it was a prized dish for the local wrestlers back in the day and winners from the village wrestling teams were served the Charga Kukkad as a special meal.

Shikar Da Achaar and Dehu Da Achaar

Like most of our country, pickling is a beloved ritual in Amritsar. The unique flavour of the Shikar Da Achaar, made with quail meat, earned it a special place on the table. A hunk of Indian pickles that packs heat, fragrance and a bit of adventure. Hunting was a sport enjoyed by the royal families in Punjab and the game meat was usually pickled in mustard oil with spices and vinegar so as to store it for a longer period of time. The other pickle that had everyone licking their fingers was the Dehu ka Achaar. 'Dehu' is a local fruit from the jackfruit family which is pickled in Amritsar and eaten throughout the year. The crisp and mature texture can compete with any lamb dish.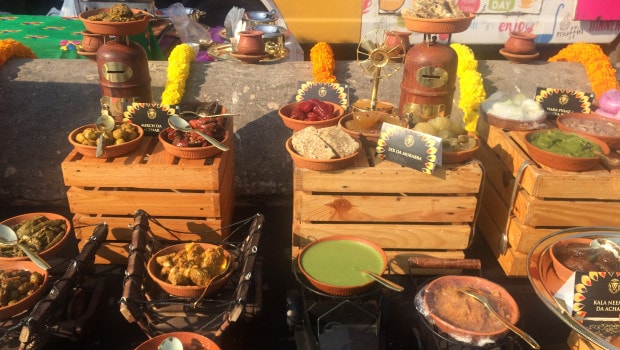 Mutton Champ Taka-Tak

Undoubtedly, one of the best lamb dishes I've eaten. Mutton champ is a star street food in Amritsar. Unlike its name, these are slim and delicate cutlets made with coarsely minced lamb, whole coriander and spiked garam masala and shallow fried till skin becomes crisp. The smoky warmth of the spices works well with the bold flavour of the meat.

For our next meal we traveled two hours away from Amritsar to Punjabiyat, a remote and enchanting spot. In between rugged landscapes and bright mustard fields, lie mud cottages where you can spend your days soaking in the sun and nights gazing at the stars. We enjoyed the real pind da khaana in an atmosphere of open, outdoor bustle. It was a fascinating mix of alchemy and love with simple ingredients and local traditions preserved in every dish.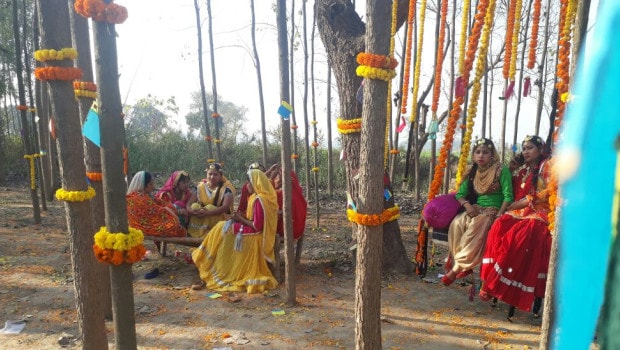 Gajjaraan Da Murabba

This vibrant dish was made of lightly spiced carrots with just the right balance of sweet and tart teasing us about things to come. The carrots were soft but if you use fresh, seasonal produce they will retain some backbone and remain crisp. Murabba is the Punjabi term for sweet fruit preserves. In many parts of India, it is traditionally prepared with amla but the one made with carrots paired really well with our meal.

Makkhan Wala Kukkad 1965

You'll always be disappointed with any other kind of butter chicken after tasting the real stuff. Chef Butter chicken, the quintessential North Indian dish, has changed dramatically over the years. From having a full bodied and textured base it has transformed into a creamy curry. Makhan Wala Kukkad was the chef's attempt to go back to the history lanes and pick up the original recipe to serve the robust dish like how it used to be. Unlike restaurant fare, marinated and tandoor-cooked chicken was stewed in butter with tangy tomato chunks and a tiny tickle of spices.

Bharwan Keema Karela

"Every Punjabi house hold has its own recipe and I learnt it from my grandmother too," shares Chef Gurpreet. Despite the simplicity, it really delivered on flavour. The whole bitter gourd was stuffed with spiced meat, secured with a thread and lightly fried. The tender meat complements the rustic bitter gourd beautifully and yet does not undermine it. Interestingly, this dish is also served frequently on dinner tables across the border where most homes love stuffing vegetables like brinjal, bitter gourd and pointed gourd (parwal) with flavourful minced meat.

Ganne Wale Chawal

This sweet preparation is specially made to celebrate the festival of Lohri. The rice is slow-cooked with raw sugar cane juice, tempered with a hearty dollop of desi ghee and finished with a sprinkle of fennel seeds and black cardamom. Sticky and unapologetically sweet, it is one serious dessert. Sometimes you just have to go all out.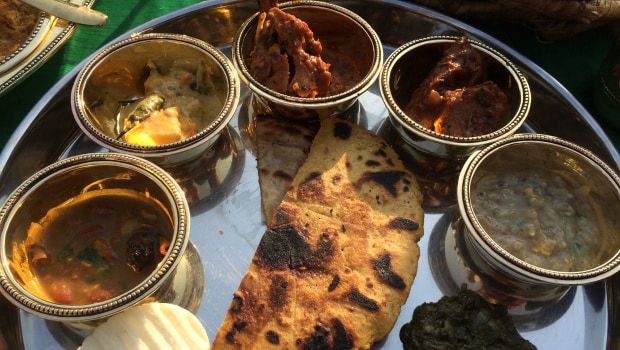 The beautiful Ranjit Svaasa, set in the quietest and prettiest corners of the city, offered a comfortable stay. Decorated in medieval-style, this heritage haveli with a history dating back to over 200 years was once home to the Mehra family. A special mention for our sweet host, Rama Ranjit Mehra who churned out treasured family dishes from her Punjabi kitchen. The Maa Channa Dal with Takda and the Tandoor Di Machchi made me run for seconds.

While most restaurants are busy serving Indian food with an accent, every meal we savoured called to the mind dishes that define Punjabi cuisine in all their originality. Some focused on regional ingredients while others celebrated street food and home cooking but each one of them digs deeper into Punjab's forgotten culinary diversity.