Seeing the Art in What Goes Into Your Mouth
IANS , New Delhi | Updated: April 23, 2013 11:05 IST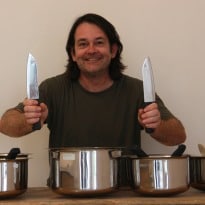 Food has been an art ever since gastronomes learnt to use spices to cook their meat and vegetables. Over the centuries, art has become integral to food production.

Worldwide, gastronomy engages with the way we eat and how we collect food, as market forces influence procurement, packaging and sale.

A multi-disciplinary art project, "In Context: Public. Art. Ecology: Food Edition", by the Khoj International Artists' Association - one of the biggest new art promotion platforms in South Asia - April 18-23 will explore the role of food in shaping our artistic, cultural and social consciousness through performance art, interactive art, installations and events.

Seven international artists at the Khoj Studios, Agat Sharma (India), Ambica Joshi (India), Andre Wakko (Germany), Mia Morikawa (US), Catherine McMohan (US), Lipika Bansal (India) and Rainer Prohaska (Austria) have been working for a month to engage local communities around the Khirki extension - an underprivileged neighbourhood in south Delhi - in food production processes and their influence on artistic legacies of the community.

The artists will look at the factors around what they call "the politics of food" in an attempt to understand the nature of what is promoted by food companies, producers' woes, the food-cum-crop related disasters, and food advocacy campaigns.

"We are what we eat," says curator Asmita Rangari.

"Food is a symbol of our cultural evolution and identity. These artists from across the world are interpreting the diverse notion of food and its politics through visual representation, interactive installations and performance art," Rangari told IANS.
Explaining the project with examples, she said: "New media conceptual artist Lipika Bansal, who had been working on water in Rajasthan, is documenting schoolgirls' engagement with food in the fringe neighbourhoods of the capital with a series of audio narratives, 'Chatpati Stories', from the perspective of gender and family."

Agat Sharma and Ambica Joshi, two young artists from Rajasthan, are looking at the experience of packaging, buying and eating habits in an installation, "Edible Ontologies". The duo has created a shopping mall to take the viewer through the food retail trade.

Austrian artist and chef Rainer Prohaska engages with the art of cooking, curator Asmita Rangari said. Rainer blurs the line between "performance and installation" in his work, "Spices: An Interactive Cooking Performance".

His installation is made of 10 cooking stations with instructions spread over five levels of the Khoj Building and the artist uses a big kitchen to allow the viewers from across cultures and walks of life to cook together.

"The participatory performance art will push people into communicating about food without talking and teach people to collaborate for their meals," Rainer said.

The chef-artist will cook simple European style dishes together with the audience who will be connected in kitchens on five floors with a network of pipelines.

New York-based Catherine McMohan is preparing for a performance that explores the role of technology and politics in food production. McMohan said the history of food is one of cultural revolution, conflict, compromise and market competitions.

In India, the politics of food revolves around "what is available in the market, technologically-influenced food, farmer distress, the green revolution and the right to food security," said Rangari.

McMohan has put up photographs and interactive installations to study through a socio-cultural lens the impact of the Green Revolution and India's space programme on food.

Food art traces its history to the cultural renaissance between the 14th and 17th century CE when the Flemish artists painted sumptuous still lives of food platters on table and life in the kitchens.

In the 1950s and 1960s, artists like Andy Warhol immortalised Campbell's soup cans in his kitsch and pop art, giving it an iconic status along with Claus Oldenberg's hamburgers and Wayne Thiebaud's cake shops.

The art has since evolved to address issues around food with the arrival of new age interactive practices and contemporary semantics.

In Picture: Austrian Artist-chef Rainer Prohaska working on his interactive installation kitchens art at Khoj International Artists' Association at Khirkee slum in the capital.

(Madhusree Chatterjee can be contacted at madhu.c@ians.in)