We are drinking more and more ground coffee at home, and getting choosier too. Supermarkets' own-brands promise a lot, but does the flavour match the hype?
Britain loves coffee, and we are becoming increasingly choosy about what we drink. The home coffee market, worth £1bn a year, is still dominated by instant coffee, but sales of ground (for filter or cafetiere use) have soared in recent years, not least the supermarket own-brands.
Historically, ground coffees were often random blends of arabica beans (which give coffee its lighter, delicate flavours), sometimes bulked out with cheaper robusta beans (which impart body and earthy bitterness, more suitable for milky espresso drinks). Now, 100% arabica coffees are common, as are coffees sourced from specific countries, drum rather than industrially roasted, and even "single-origin" coffees. As a definition - grown on anything from one farm to in a specific region - single-origin sounds vague, but, in practical terms it ensures single-variety beans grown in similar soil, which therefore share key flavour characteristics so is a broadly reliable guarantee of quality. So it is easier to find better ground coffee. But which of the supermarkets are offering the best?
Aldi, Specially Selected Ethiopian, 200g, £1.99
A mercurial brew. It smells flat, like old, worn leather, but take a sip and it is full of engaging milk chocolate and dark fruit-cake flavours. A no 4 medium/strong roast of Ethiopian sidamo arabica beans, it asserts its full-bodied flavour without relying on acerbic bitterness and, as it cools, the citrusy notes characteristic of Ethiopian coffees are discernible. Plenty of character.

Score: 7/10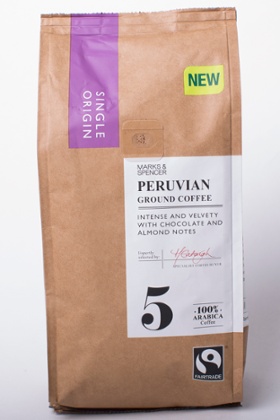 Marks & Spencer, Single Origin Peruvian, 227g (Fairtrade), £3.50
Grown on plantations high in the Peruvian Andes, this cashmere smooth, fulsome coffee bears out the superiority of single-origin coffee. Relatively dark roasted (no 5), it is overtly smoky but with no ugly, aggressive bitterness. Instead, it is both rich and sweet, with discernible nutty, chocolatey notes. The best small-batch, whole-bean coffees are more complex, but this is a good cup of coffee.
Score: 8/10
Sainsbury's, Taste The Difference Colombian, 227g (Fairtrade), £3.30
Can you smell that aroma? Me neither. This 100% arabica delivers elements of the flavours you expect: a low-lying smokiness and tobacco, broadly winey notes (warm grape juice, a hint of lemon too), but in a rather flabby, unbalanced way. Its supposed caramel sweetness is fleeting.
Score: 4/10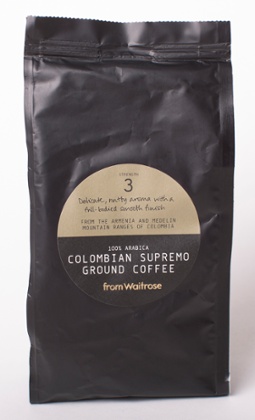 Waitrose, Colombian Supremo, 227g, £3.29
Lightly roasted arabica coffees are fashionable in Britain's brewlabs (formerly, coffee shops). Served brewed or filtered, the idea is to draw out the subtle characteristics an espresso machine tramples on. This example uses larger Supremo beans and has a roasted hazelnut twang. After a few sips, though, it tastes domineeringly winey quickly fading to dark chocolate, that lacks intrigue.
Score: 6/10
Lidl, Bellarom Gold, 500g, £3.49
"A distinctive blend of highland arabica" reads the blurb, without (you will note) going into detail. Its main flavour is reminiscent of old, souring red wine, allied to the kind of spiky, bitter compounds that turn people into dedicated tea drinkers. It tastes somehow stewed, even when freshly brewed. It would slap you awake at 7am but in a joyless way.
Score: 3/10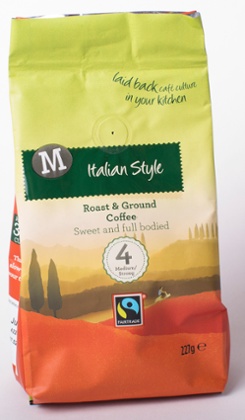 Morrisons, Italian Style, 227g (Fairtrade), £2.28
Ultimately, that promise of "Italian style" coffee is an empty one. You cannot replicate true espresso coffee at home using a cafetière, percolator or pour-over filter kit. Despite only being a no 4 medium/strong roast, this does mimic the intensity of an espresso. It is a tight cluster of brassy, roasted flavours, giving way to smoked embers and steeped dark berries.
Score: Espresso fans, 7/10 otherwise 6/10
Asda, Extra Special Mocha Limu, 227g (Fairtrade), £2.98
A no 4 medium/strong, drum-roasted 100% Ethiopian arabica, this is open and perky, with a palate-sharpening acidity. Its roasted flavours are restrained rather than bullying. Gooey dark chocolate cake comes through immediately and, later, honeyed sweetness and hints of lemon and wild flowers. A smooth, rounded coffee of refreshing complexity.
Score: 7/10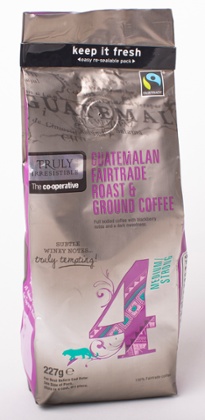 Co-Op, Truly Irresistible Guatemalan, 227g, £3.29 (Fairtrade)
This smells great: richer and darker than its no 4 medium/strong roast suggests, but goes downhill from there. It is smooth enough but, initially, any "subtle winey notes" are indistinguishable. Upfront, it is all smoky, roasted flavours with a hint of aniseed. It grows in flavour (chocolate, that winey-ness) but irresistible? At best, it is a serviceable everyday cup.
Score: 5/10
Tesco, Tesco Finest Guatemalan, 227g (Faitrade), £2.99
A no 4 medium/ strong roast, this Guatemalan arabica lacks presence and charisma. Familiar winey (or as a passing guinea pig had it, weak Vimto) flavours were present, but were neither bold nor clearly delineated. Its advertised "hints of blackberry" are a whispered aside. It neither delivers a bracing first burst of roasted coffee flavour nor its vaunted spiciness. A shrug in a mug.
Score: 4/10

Britain is becoming a nation of coffee-lovers. Photograph: Feng Yu/Alamy