There's a Cup of tea in Your Food
Mid-day , Mumbai | Updated: March 13, 2013 10:50 IST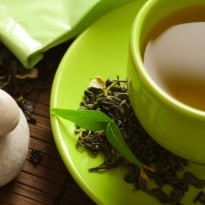 Oolong, lemon, chamomile and mint tea are all great for flavour. But add these to traditional food recipes and you have yourself a whole new dish. Sonal Ved suggests you dabble in some tea-based cooking.

India has always been serious about its chai. Now, tea has moved on from being a drink to an ingredient itself. To understand how tea's flavour can be transferred into food, we attended two tea appreciation workshops recently.

Indian leaf connoisseur Neetu Sarin from Tea of Life teaches us how to introduce teas in different courses of the menu. And master blender Jeremy Sturges, along with expert Stephen Twining from R Twining and Company Ltd, recommend some tea and food pairings.

Star Cookie with Cream, Chocolate Chip Cookie and Marzipan with Matcha Tea at Anemos, in Lower Parel


Teas and Appetizers

We recommend mild and fruity concoctions of lemon, rose, orange and chamomile that are mere fleeting flavors. Infuse leaves in a regular manner and use the same liquid to temper vinaigrette and drizzle it on salads. Or you could sprinkle them directly onto tomatoes or sauteed mushroom before perching it on baguette slices to make bruchettas.

Rose Vanilla cream With Dark Chocolate with 'Matcha' Tea and Biscotti is a popular dessert. Pic/Pradeep Dhivar

Teas can also be used to zest-up cold soups. Two interesting combinations are Earl grey tea mixed with cucumber soup and Darjeeling black tea-flavoured squash broth. Since both the leaves are strong and slightly bitter, they help offset thesweetness of certain vegetables such as peas, corn and carrots.

For cold noodles or pasta-based salads, green tea works the best. All you have to do is sprinkle a fat pinch on top of your final dish and toss well. Ditto for kebabs, only use a dash of masala chai powder instead.


Main Course and Tea

When it comes to tea and food, there is nothing more classic than a tea-smoked meat. Tear a few packets of black tea bags and empty it on the oven tray. Place the meat in the center and roast it until cooked. This method, not only gives your dish a smoky-tea flavour, it also leaves the home smelling oh-so-good!

Apart from meats, fish too can be crusted with teas. Simply add a few spoons of lemon or rosebud tea to breadcrumbs before coating the catch and fry until golden-brown.

For vegetarians, the options are many, teas such as rosebud, hibiscus and pomegranate blend well with olive oil and can be used to marinate vegetables or cottage cheese. For expensive ingredients such as truffles or white asparagus, stick to a sprinkling of delicate white tea powder on the final dish.


Desserts with Tea

Internationally, one ingredient that is being used abundantly in desserts is matcha tea powder. The potent green dust is an Asian dessert staple and has a wonderful emerald colour with a woody aftertaste. At home, use it to season tea loaves, macaroons, crème brule and frosting for cupcakes. Similarly, cinnamon, jasmine, lemongrass and cardamom leaves can be used too. Iced slushes and sorbets flavoured with fruit teas are also apt for summers.


Tea Pairing

You can add a touch of tea to your meals by pairing it with food as well. Here are some wonder combinations:

> Sea food-based appetizers with ingredients such as shellfish and prawns go best with a cup of green or Earl grey tea.

> Pair smoked salmon with strong teas such as Darjeeling or Assam black.

> Fried foods should be served with English breakfast tea.

> Salads with leaves such as watercress and rocket can be paired with pure green tea.

> For creamy risottos and pastas, jasmine tea works the best.

> Spicy Indian and Mexican fare can be served with cooling cups of peppermint tea.