Story Progress
Back to home
Alleppey Chemeen Curry Recipe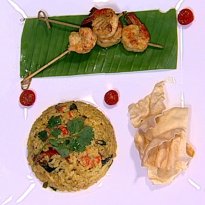 Grilled prawns and shrimp simmered in coconut gravy, served with red rice and cherry tomatoes.
Total Cook Time

1 hr 15 mins

Ingredients of Alleppey Chemeen Curry
400 g prawns (30-40 pcs)
100 g shrimp
Salt to taste
Juice of 2 lemons
1 Tbsp ginger-garlic paste
200 g Kerala red rice
100 ml coconut oil
1 Tbsp curry leaves
2 onions, sliced
1 Tbsp ginger, julienne
1 Tbsp green chilli, julienne
2 tsp turmeric powder
1 tsp coriander powder
1 tsp chilli powder
1 tsp degi mirch powder
500 ml coconut milk
1/2 cup tamarind pulp
2 tomatoes, quarters
10 satay sticks
10 cherry tomatoes (for garnish)
2 banana leaves (for presentation)
1.
In a bowl, clean the prawn and shrimp in running water and keep aside.
2.
Marinate the prawn with salt, lemon juice and ginger-garlic paste. Squeeze it after 10 minutes and marinate with the coconut gravy, once it's ready.
3.
Wash and soak the red rice. Boil it once the gravy is ready and serve hot.
4.
In a pan, heat some coconut oil on a medium heat. Add curry leaves, onion, ginger, green chilli and saute.
5.
Saute for five minutes. Add turmeric, coriander powder and both the chilly powders. Cook it for some time and then add the coconut milk.
6.
Cook the gravy for some time and then add the shrimps.
7.
Cook it for some more time and finish it with tamarind pulp and tomatoes.
8.
Skewer the marinated prawn onto the satay stick. Sear the prawn on the grill and cook in the gravy.
9.
Serve with hot boiled red rice, with a garnish of cherry tomatoes.