Story Progress
Back to home
Aloo Ke Tuk Recipe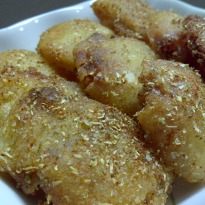 Hot and crispy aloo ke tuk served with a piping hot bowl of sindhi curry, a papad and boiled rice. A yummy side dish for a full fledged Sindhi meal.
Total Cook Time

20 mins 20 seconds

Ingredients of Aloo Ke Tuk
3 potatoes, peeled and cut into four equal portions (once horizontally and once vertically)
Oil, for deep frying
Salt to taste
Aamchoor (raw mango powder) to taste
1 tsp sookha dhaniya powder( coriander seeds)
A pinch, red chilli powder
1.
Fry the peeled and cut potatoes in oil. Fry till golden brown. Take them out and place between sheets of paper.
2.
With the pressure of your palm, squeeze the fried potato pieces between the paper.
3.
Take those squeezed potatoes and deep fry them again till crisp and golden.
4.
Sprinkle salt, aamchoor, sookha dhaniya powder and red chilli powder on them.
5.
Toss the aloo tuk and serve them hot and crispy with sindhi curry, papad and boiled rice for a full Sindhi meal.