Story Progress
Back to home
Apple Strudel Recipe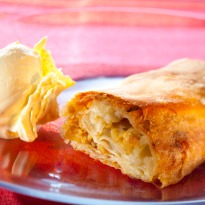 Flaky crust outside, gooey apples inside. Create a warm apple strudel at home and serve with a dollop of ice-cream.

Ingredients of Apple Strudel
1-2/3 cups flour
1/4 tsp salt
1 Tbsp vinegar
2 Tbsp oil
1 egg-slightly beaten
1/4 cup warm water
1/4 cup granulated sugar
1/2 cup brown sugar, packed
2 Tbsp cornflour
1 1/2 Tbsp ground cinnamon
5 1/2 cups tart apples, chopped
1 1/2 Tbsp lemon juice
1/2 cup, plus 1 tsp butter (divided)
1 Tbsp honey
1.
In medium bowl, mix flour, salt, vinegar, oil and egg.
2.
Add water and mix. Knead until dough is smooth place in a bowl.
3.
Cover and set aside one hour. Mix sugars, cornflour and cinnamon.
4.
On a floured pastry cloth, roll dough to a 12x8 inch rectangle. (A pastry cloth is a durable cloth made of canvas used for rolling out pastry dough)
5.
Spread apples over dough; sprinkle lemon juice and sugar mixture over apples.
7.
Using pastry cloth to lift pastry, roll dough jelly roll fashion.
9.
Place on greased cookie sheet.
10.
Bake at 400 degrees F for 35 minutes.
11.
Mix honey and 1 tsp butter, spread on crust.