Story Progress
Back to home
Ariti Pooru Kobri Recipe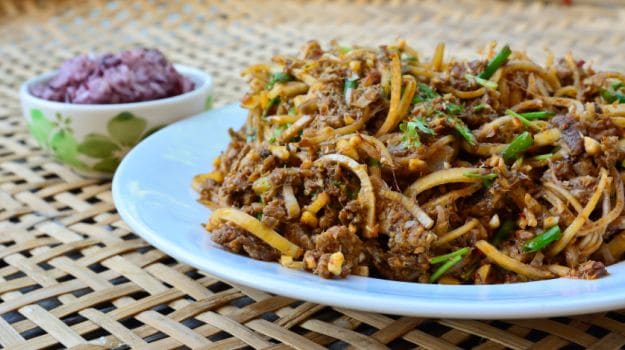 How to make Ariti Pooru
About Ariti Pooru Kobri Recipe: Ariti Pooru Kobri is made from banana flowers, curry leaves, mustard seeds, dry red chillies and coconut. This dish hails from Andhra Pradesh, South India.

Ingredients of Ariti Pooru Kobri
Banana flowers
to taste Salt to taste
Water
For the gravy:
2 Tbsp oil
1/2 tsp mustard seeds
2 red chillies
1/4 tsp cumin seeds
1 tsp whole black gram dal
Curry leaves
2 Tbsp chopped onions
2 tbsp chopped green chillies
1/2 tsp turmeric powder
2 tsp of semi boiled green gram dal
2 Tbsp grated coconut
Boiled banana flower
1/2 tsp salt
1 tsp lime juice
Coriander leaves to taste
1.
Clean the banana flower and chop it into tiny pieces.
2.
Then boil in water and salt and keep it aside.
For the gravy:
1.
Heat the oil in a pan. Add mustard seeds, red chillies, cumin seeds, whole black gram dal, curry leaves and chopped onions.
2.
Saute till the onions become translucent. Then add chopped green chillies, turmeric powder, semi boiled green gram dal, grated coconut, boiled banana flower salt and lime juice.
3.
Mix it well. Ariti Pooru Kobri is ready to eat.
4.
Garnish with coriander leaves and serve hot.