Story Progress
Back to home
Microwave Bhuna Keema Recipe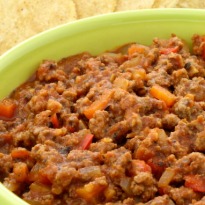 How to make Microwave Bhuna Keema
Minced meat with a dense gravy made in a microwave.
Total Cook Time

1 hr 10 mins

Ingredients of Microwave Bhuna Keema
500 Gram Minced meat
1 Tbsp Oil
2 tsp Cumin seeds
500 Gram Onions, grated
1 tsp Ginger paste
1 tsp Garlic paste
1 Cup Tomato puree
2 tsp Salt
1 tsp Chilli powder
2 tsp Garam masala
1 Tbsp Coriander powder
1 tsp Turmeric powder
For garnishing Coriander leaves
1.
In a shallow broad dish, mix the oil and the onions.
2.
Cook uncovered at HI for 25 minutes stirring thrice, till the onions are brown.
3.
Mix together the browned onions, keema, ginger-garlic paste and cook uncovered on HI for 10 minutes, stirring thrice.
4.
Mix in the tomato puree, salt, chilli powder, garam masala, coriander powder and the turmeric powder and cook at HI for 10 minutes and stirring it thrice.
5.
If there is excess liquid, lift the keema out of the liquid and cook the liquid separately at HI for 8-10 minutes.
6.
Add the keema, mix well and cook at HI for 5 minutes.
7.
Serve garnished with coriander leaves.
Key Ingredients: Minced meat, Oil, Cumin seeds, Onions, Ginger paste, Garlic paste, Tomato puree, Salt, Chilli powder, Garam masala, Coriander powder, Turmeric powder, Coriander leaves