Story Progress
Back to home
Buttered Potatoes Recipe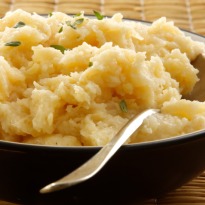 Mashed potatoes simmered in milk, butter and nutmeg. Served with a home-made whole grain mustard

Ingredients of Buttered Potatoes
750 gm potatoes approx
175 ml boiling milk
50 gm butter
Salt and pepper grate nutmeg
For wholegrain mustard to flavor:
2 Tbsp sarson seeds
2 Tbsp rai seeds
Vinegar to cover approx 75 ml olive oil
2 Tbsp yellow mustard seeds
1.
Peel potatoes and boil until tender.
2.
Drain and dry potatoes over a gentle flame.
4.
Gradually pour in hot milk with the butter.
6.
Beat very well with a wooden spoon for a light creamy finish.
7.
Flavour with mustard and serve.
8.
You can also make flat potato cakes with the mash and bake it for a couple of minutes.
For the whole grain mustard:
1.
Combine the mustard seeds.
2.
Cover with vinegar and set aside in a warm place for 3 days.
3.
Drain any excess vinegar.
4.
Pound mustard seeds to a course paste.
5.
Gradually pour in olive oil in a thin steady stream pounding all the time.