Story Progress
Back to home
Capsicum Stir Fry Recipe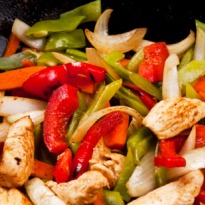 Capsicum, beans and bell peppers tossed together in a sauce made with honey, nuts and soy.

Ingredients of Capsicum Stir Fry
For the capsicum sauce:
250 gm capsicum - deseeded and finely chopped
4 Tbsp oil
1 tsp chilli garlic sauce
1 Tbsp grated jaggery
4 Tbsp lemon juice
For the veggies:
Red, green and yellow capsicum - deseeded and shredded
50 gm tender green beans
1 tsp chopped garlic
1 Tbsp sunflower oil
2 tsp sesame oil
8 roughly chopped spring onions
25 gm unsalted cashew nuts
1 Tbsp honey
1 tsp soya sauce
For the sauce:
1.
Heat oil for capsicum sauce and saute capsicum and chilli sauce for 15-20 minutes.
2.
Add jaggery and lemon juice to pan.
3.
Puree sauce and season well.
For the veggies:
1.
Heat both oils together and add capsicum, beans and garlic. Stir-fry for 1 minute. Add onions and nuts.
2.
Continue cooking for a further minute and stir in honey and soya sauce. Cook for a further minute.
3.
Place on top of the sauce before serving.