Story Progress
Back to home
Caramel Shortbread Recipe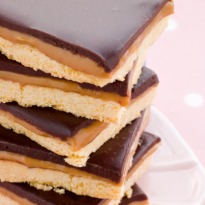 Shortbread is a type of biscuit made with flour, sugar and butter. It is named so because of its crumbly texture. Here's the recipe of caramel shortbread with the flavors of chocolate and caramel.

Ingredients of Caramel Shortbread
300 gms flour
125 gms castor sugar
200 gms butter
For Caramel:
100 gms butter
100 gms castor sugar
2 Tbsp golden syrup
1 large tin condensed milk
Topping:
200 gm melted chocolate
1.
For the shortbread, combine flour and sugar in a bowl.
2.
Rub in chilled, diced butter. Knead until the mixture forms soft dough.
3.
Roll out on a floured surface. Line a 12x9" tin with the dough.
4.
Bake at 180 degrees C for 15-20 minutes or until golden in color.
For the Filling:
1.
Melt butter, stir in remaining ingredients.
2.
Heat gently until sugar dissolves. Boil for 5 minutes, keep stirring.
3.
Pour over shortbread. Allow it to set.
4.
When cool, spread melted chocolate over caramel.
5.
Cool, cut into squares and serve.