Story Progress
Back to home
Chocolate Chip Cookies Recipe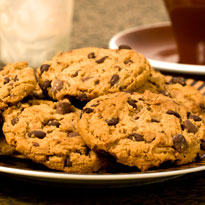 Chunky cookies made out of butter, maida and chocolate chips.

Ingredients of Chocolate Chip Cookies
Oven Temp: 375 F-180 C
1/4 cup butter
1/2 cup sugar
1 egg
1 tsp vanilla essence
1 cup maida
1/2 tsp baking powder
1/4 tsp salt
1/2 cup chocolate chips (you get them in packets, or you can chop semi-sweet chocolate into tiny chips)
1.
Mix the butter, sugar and egg.
3.
Mix the flour, baking powder and salt together.
4.
Add this to the butter mixture and mix well.
5.
Add the chocolate chips and mix well.
6.
Shape dough into rounds and place on an ungreased baking tray at least 1" apart.
7.
Press with the base of a glass or any flat tool.
8.
Bake in a pre-heated oven at for about 15-20 minutes.
9.
Serve or cool and store in an airtight jar.