Story Progress
Back to home
Chocolate Cream Pudding Recipe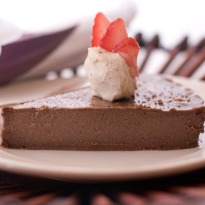 This smooth, creamy and chocolatey pudding gives the perfect end to your meal.

Ingredients of Chocolate Cream Pudding
3 egg whites
75 gm castor sugar
2 egg yolks
1 Tbsp cocoa
For Soaking:
3 Tbsp sweetened black coffee
1 Tbsp rum
For Chocolate Cream:
450 ml milk
6 egg yolks
100 gm castor sugar
50 gm flour
150 gm chopped chocolate
100 ml whipped cream
Cocoa and icing sugar to dredge
1.
Whip egg whites until stiff.
4.
Spread out to 1/4 " thickness on a greased and floured tin.
5.
Bake at 190 degrees C for 7-8 minutes.
6.
Remove from oven and cool.
7.
Arrange at base of flan dish.
8.
Soak with coffee and rum.
For Chocolate Cream:
1.
Scald milk. (Heating below boiling point)
2.
Beat in yolks and sugar together for 5 minutes.
5.
Return to pan, stirring continuously.
6.
Stir in chocolate and allow it to melt.
9.
Spoon this cream over sponge.
10.
Dredge with cocoa and icing sugar before serving.