Story Progress
Back to home
Chocolate Fondant Cups Recipe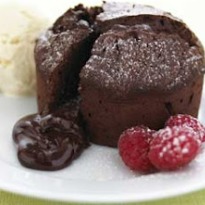 Succulent chocolate cups that ooze out warm luscious chocolate when cut into. This must be heaven.

Ingredients of Chocolate Fondant Cups
120 gm butter (unsalted)
200 gm dark chocolate
2 egg yolks
2 whole eggs
80 gm castor sugar
25 gm flour sifted
1.
Prepare ramekins by either spraying or buttering and dusting with flour or cocoa.
2.
Melt together chocolate and butter on a double boiler or in a microwave. Let chocolate mixture cool to room temp.
3.
Whisk eggs, yolks and gradually add in the sugar. Keep whisking till the eggs and sugar and yolks reach a ribbon like texture. A kitchen aid would really help here as your hands will get very tired doing this on your own. The texture must look like ribbons falling from the whisk.
4.
Add the flour to chocolate mix and fold to ensure there are no lumps.
5.
Now whisk in half the egg mix to chocolate mix and fold in other half.
6.
Pour into prepared molds.
7.
Bake at 180 degrees for 10.5 minutes and serve with ice cream.
8.
You can either serve these in the ramekins themselves or run a thin knife and upturn. When cut they will ooze out chocolate. Dust with icing sugar and serve with ice cream and a few strawberries or any berry
9.
Tip: Do try one or two molds in advance to know your exact oven temp so that the fondant remains intact when upturned. Oven temperatures may vary so its good to test one or two.