Story Progress
Back to home
Clear Vitamin Soup Recipe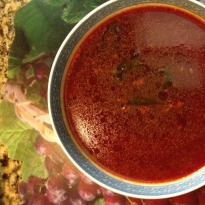 A healthy soup made with beetroot, tomatoes and carrots. Enjoy as a soup or serve with brown rice.

Ingredients of Clear Vitamin Soup
2 cups diced beetroot
2 cups diced carrots
2 cups diced tomatoes
3 thai green chillies (optional)
2 Tbsp tamarind pulp (If you are allergic to tamarind pulp, substitute it with cranberries or lemon juice)
Salt to taste
1 tsp red chilly powder (optional)
1/2 tsp asafoetida
1 tsp coriander powder
1 tsp cumin powder
2 tsp rasam powder
2 tsp oil or ghee
Seasoning:
1 1/2 tsp mustard seeds
1 1/2 tsp cumin seeds
2 dry red chillies
4 mashed garlic cloves
4 sprigs of curry leaves
1.
Blend beetroot, carrot, tomato and green chillies.
2.
Heat 2 tsp of oil in a heavy bottom pan.
3.
Add the ingredients for the seasoning let it splutter.
4.
Add the blended vegetable puree to the seasoning with ten cups of water.
5.
Add chilli powder, coriander powder, cumin powder, Rasam powder, and tamarind pulp.
6.
Stir and let it boil for 10-15 minutes and add coriander leaves (optional).
7.
Enjoy as a soup or with Quinoa or Brown rice.