Story Progress
Back to home
Cold Cream of Green Pea Soup Recipe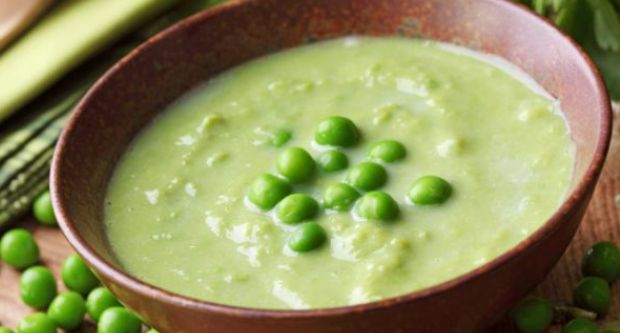 An easy to make pea soup with the richness of yogurt that can be served hot or cold.

Ingredients of Cold Cream of Green Pea Soup
1 tsp vegetable oil
1 large onion, sliced (about 1 1/2 cups)
2 1/2 cups chicken broth
1/2 tsp salt
Freshly ground black pepper
1 (10-oz) bag frozen peas
4 tsp plain non-fat yogurt, optional
Serrano ham sliced
1.
In a large pot, heat the vegetable oil over moderately-low heat.
2.
Add the onion, cover and cook, stirring occasionally, until softened, about 5 minutes.
3.
Add the broth, tarragon, salt and a few turns of freshly ground black pepper and bring to a boil.
4.
Add the peas and cook just until defrosted.
5.
In a blender, puree the soup in 2 batches until very smooth. If serving hot, return the soup to the pot and bring just to a simmer. If serving cold, transfer to the refrigerator to chill.
6.
Add the yogurt and chill in the fridge.
7.
When cold fill shot glasses 3/4 high, place a thin slice of Serrano ham on top and garnish with basil sprig.
8.
Prem Kumar Pogakula is a Sous Chef at The Imperial, New Delhi.