Story Progress
Back to home
Dark Chocolate Mousse with Amarula Creme Recipe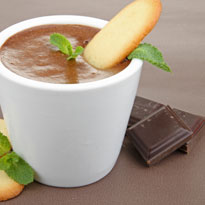 A smooth dark chocolate flavored mousse topped with an exotic and freshly made Amarula creme made with a South African liqueur.

Ingredients of Dark Chocolate Mousse with Amarula Creme
For the Mousse:
400 gm dark chocolate - broken into pieces
8 large eggs - separated
Salt
2 cm piece of vanilla pod - sliced open
For the Amarula Creme:
4 egg yolks
1 cup Amarula liqueur
1/2 cup milk
1/2 cup cream
1/2 cup sugar
2 cm piece of vanilla pod - sliced open
(Amarula is a cream liqueur from South Africa. It is made with sugar, cream and the fruit of the African marula tree. You can also use Baileys instead of Amarula)
For the Chocolate Mousse:
1.
In a double boiler, melt the chocolate to a smooth consistency. Add pinch of salt, stir and remove double boiler from heat.
2.
Whisk egg whites and then separately beat the egg yolks with a fork for a few seconds.
3.
Add the egg yolks to the warm melted chocolate and mix. Immediately add the egg whites and fold in with a metal spoon. Mix gently with a hand whisk to blend lumps.
4.
Pour mixture into small bowls and refrigerate for a few hours or preferable overnight.
For Amarula Creme:
1.
Take Amarula, milk and cream in a saucepan and bring to a boil. Add sugar and vanilla pod, simmer over medium heat for 5 minutes.
2.
Remove from heat and remove vanilla pod. Whisk in egg yolks and return to heat stirring continuously until the mixture thickens slightly.
3.
Set aside and allow it to cool.
4.
To assemble remove mousse portions from the refrigerator and spoon some Creme onto the top. Sprinkle with cacao or cinnamon and serve.