Story Progress
Back to home
Fesenjoon Recipe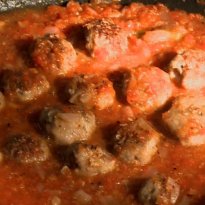 Soft meatballs stirred in with tomato, lime and peeled lychees.
Total Cook Time

1 hr 15 mins

Ingredients of Fesenjoon
Refined oil
1/2 kg minced mutton
1 egg
1 lemon
3 onions
4 - 5 tomatoes, pureed
1 tbsp ginger garlic paste
2 green chillies
7 - 8 peeled lychees
1/2 tsp ground black pepper
Sugar to taste
Salt to taste
Fresh coriander for garnish
2.
Add the egg, ginger garlic paste, some freshly ground black pepper and 1 tsp of refined oil into the minced mutton.
3.
Add 1 tsp of salt and mix together.
4.
Make small meatballs out of the mixture.
5.
In a pan, shallow fry the meatballs till golden brown and keep aside.
6.
In another pan, heat 1 tbsp of oil.
7.
Add the green chillies and onions and sauté it for 15 minutes.
8.
To this add the tomato puree, a pinch of sugar, salt and pepper.
10.
Then place the fried meatballs in the tomato sauce and add a dash of lime juice.
11.
Let this simmer for 20 - 25 minutes.
12.
Stir in the peeled lychees and cook for 8 - 10 minutes.
13.
Garnish with fresh coriander.