Story Progress
Back to home
French Onion Soup with Mozzarella Cheese Recipe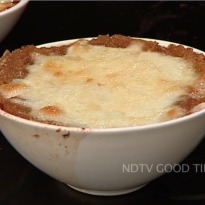 How to make French Onion Soup with Mozzarella Cheese
A delectable soup made from caramelized onions, wine and chicken stock. Loaded with cheese and baked. It can't get better than this.
Total Cook Time

1 hr 05 mins

Ingredients of French Onion Soup with Mozzarella Cheese
3-4 Tbsp olive oil
6 onions, finely sliced
1 tsp sugar
A dash of balsamic vinegar
4 cups chicken stock
3 cloves garlic, chopped
Salt, to taste
Pepper, to taste
1 cup dry white wine
3-4 Tbsp mozerella cheese, grated
1 Tbsp taleggio cheese
Roundels of French loaf, to top the soup bowl
1.
In a pan, add olive oil and onions. Once done, add sugar and balsamic vinegar. Cook the onions till dark brown.
2.
Add chicken stock, garlic, salt and pepper. Simmer for a few minutes.
3.
Add dry white wine and simmer for 10 minutes.
4.
Pour in individual soup bowls (oven proof).
5.
Cover the surface with French loaf roundels. Sprinkle mozzarella cheese generously. Top with some taleggio cheese.
6.
Bake at 200 degrees C for 10 minutes or till the cheese melts