Story Progress
Back to home
Fruit Yogurt Recipe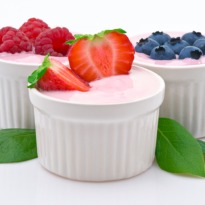 How to make Fruit Yogurt
Yogurt is known for its versatility, here's for you a sweet and fruity yogurt recipe. Make it a part of your breakfast, a quick bite or works well even as a dessert.

Ingredients of Fruit Yogurt
500ml milk
Seasonal fruits
Dry fruits
Yoghurt culture
Mango / strawberry pulp / fruit pulp of your choice
Sugar
1.
Bring milk to a boil and allow it to cool to a temperature of 37-40⁰C.
2.
Wash the fruits, peel them , chop them into small bits and big chunks.
3.
Add the fruit pulp, fruit bits, fruit chunks and chopped dry fruits to the milk cooled to the desired temperature.
4.
Add 2 spoons of the yoghurt culture. Stir well.
5.
Cover and incubate at a warm place.
6.
Keep undisturbed for a 6-8 hours.
7.
Top the set yoghurt with fruits, fruit sauce, dry fruits.