Story Progress
Back to home
Easy Fruit Custard Recipe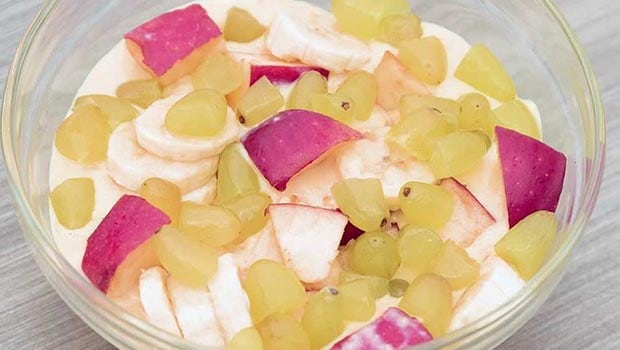 How to make Easy Fruit Custard
NDTV Beeps
About Easy Fruit Custard Recipe: Mixed fruit custard makes for an amazing summer dessert which not only makes for a healthy dessert but also requires very less cooking with minimal ingredients. This one is a favourite among all age groups and a popular dish at dinner parties.

Ingredients of Easy Fruit Custard
1 bowl milk
1 tbsp custard powder
2 tsp brown sugar
Water
1/2 apple, chopped
1 small banana, chopped
10-12 grapes, chopped
1.
Boil milk in a deep pan. 2.
Meanwhile, in another small bowl put custard powder and add brown sugar to it. 3.
Pour some water to the bowl and mix well. 4.
Add the mixture to boiled milk.
5.
Whisk the milk thoroughly to avoid forming of lumps.
6.
Bring the mix to simmer and transfer it to a bowl. 7.
Take chopped apple, banana and grapes and put it over the custard. 8.
Delicious fruit custard is ready to be served. You can also put it in the fridge for a while to serve chilled custard. Recipe Notes
You can use fruits of your choice although sweet fruits are generally preferred for a custard.
Watch the step by step recipe of Easy Fruit Custard here: