Story Progress
Back to home
Goan Fish Head Curry Recipe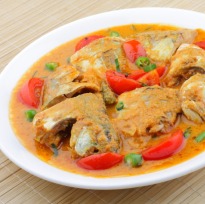 Goans love their fish curry and why shouldn't they. Beautiful fish heads marinated in a thick paste of onions, coconut, garlic and chilli are cooked till soft and served on a bed of rice.
Total Cook Time

1 hr 15 mins

Ingredients of Goan Fish Head Curry
500 gm fish head
50 gm oil
100 gm tomatoes
5 gm curry leaves
10 gm turmeric
15 gm chilli powder
100 ml coconut milk
Salt to taste
For Paste:
100 gm onions
50 gm coconut
20 gm coriander seeds
10 gm cumin seeds
20 gm peppercorns
30 gm green chillies
40 gm garlic
20 gm ginger
200 ml vinegar
1.
Clean the fish head and cut into pieces of required size.
2.
Grind the ingredients for the paste and add vinegar.
3.
Heat some oil and add the paste. Saute on low heat for 15 minutes.
4.
Add the rest of the ingredients except the coconut milk and cook for 5 minutes.
5.
Add the fish head and 100 ml of water. Bring to boil.
6.
After the fish heads are cooked, mix in the coconut milk and boil for 5 minutes.
7.
Garnish with curry leaves and serve hot on a bed of rice.