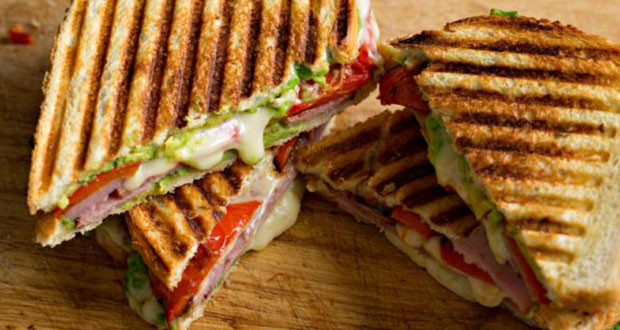 Take the sinful cheese toast a notch higher by loading it with bacon, avocado and tomatoes. Too good to resist!
Ingredients of Grilled Cheese Toast with Bacon, Avocado and Tomato
2 bacon slices (sliced half)
2 bread slices
2 tsp butter
A few cheddar cheese
2 tomato slices
1/2 ripe avocado, sliced
How to Make Grilled Cheese Toast with Bacon, Avocado and Tomato
1.

Place bacon in a large nonstick and cook over medium-low heat, flipping occasionally, until crisp all over. Transfer bacon to a paper towel-lined plate, and keep bacon fat aside.

2.

Wipe out the skillet and return to medium heat. Spread softened butter on both bread slices and place on pan, about 2 minutes.

3.

Transfer to a cutting board toasted-side-up. Place one cheese slice on top of a slice of bread, followed by bacon, tomato, and avocado. Top with second cheese slice and close the sandwich.

4.

Add half of the reserved bacon fat to skillet and heat over medium-low heat. Add sandwich and cook, swirling occasionally, until golden brown on both sides and the cheese is thoroughly melted (8 minutes approximately).

5.

Serve immediately.
Key Ingredients: bacon slices (sliced half), bread slices, butter, cheddar cheese, tomato slices, ripe avocado