Story Progress
Back to home
Gucchi Wale Chawal Recipe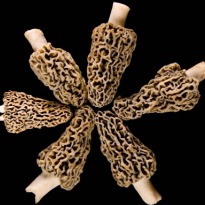 How to make Gucchi Wale Chawal
Black morel mushrooms are a delicacy and not easily available but in case you get your hands on them turn it into an aromatic pulao. Do not add too many masalas and enjoy the flavors of the gucchi.

Ingredients of Gucchi Wale Chawal
10 pieces dried black morel mushrooms / gucchi (see picture)
1 cup basmati rice, pre soaked in water
3 Tbsp ghee
1 bay leaf
4-5 black elaichi dana
1 small stick cinnamon
1 knob ginger, sliced thinly
1 tsp cumin seeds
1.5 cup water
Salt to taste
1/2 lemon
1.
Wash the gucchi to get rid of all the extra dirt. Do not wash it vigorously.
2.
Soak the gucchi in 1 cup luke warm water for 10 minutes. Strain the water. Do not throw it away. The water which is filled with flavors is used to cook the rice.
3.
Take the gucchi and slice them into thick rounds.
4.
In a wok / kadhai ass ghee, bay leaf, elaichi daana, cinnamon and cumin seeds. Let it splutter.
5.
Add ginger and saute for a few seconds. Add the sliced gucchi and saute it for 1 minute.
6.
Now add the soaked rice, the gucchi soaked water and 1/2 cup of normal water.
7.
Squeeze 4-5 drops of lemon juice in the mixture and let it cook for 20 minutes.
8.
Serve it hot with a bowl of raita.