Story Progress
Back to home
Guilt Free Dark Chocolate Mousse Recipe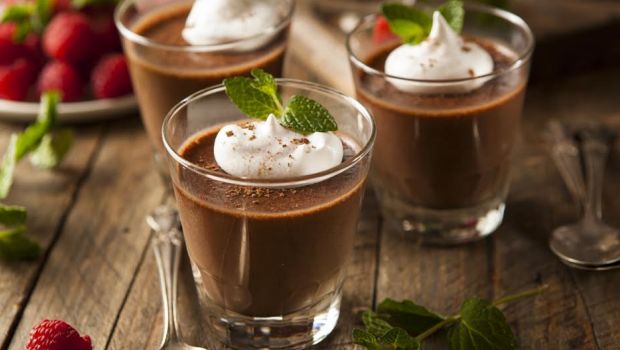 How to make Guilt Free Dark Chocolate Mousse
Dodge the guilt and whip a delectable chocolate mousse with hung yogurt and egg whites.

Ingredients of Guilt Free Dark Chocolate Mousse
185 gm dark chocolate, chopped
2 egg whites
1 tsp coffee
1/2 tsp cocoa powder
2 tsp Irish cream liquor
1/2 Tbsp sugar
50 gm hung yogurt
Garnish:
Blueberries
Icing sugar
1.
Cut the dark chocolate into pieces, put it in a bowl and melt it in a pan that fits into a bigger saucepan with simmering water.
2.
Take 2 egg whites in a bowl and mix them till they become stiff, then add sugar and mix again.
3.
In another small bowl take coffee, cocoa powder, Irish cream liquor and mix well.
4.
Add this to the melted chocolate.
5.
Now whisk the hung curd into this mixture.
6.
Finally with a large steel spoon fold in the beaten egg mixture into the chocolate yogurt, a spoon at a time.
7.
Be careful not to over mix at this time otherwise the mousse will lose its volume.
8.
Spoon this creamy chocolate mixture into four bowls.
9.
Put them into the refrigerator for a couple of hours for the mousse to set.
For the garnish:
1.
Put frozen blueberries in a pan of water, add a pinch of sugar for taste and let them boil for around 15 minutes till the water reduces.
2.
Garnish the mousse with the blueberry compote, dust a little icing sugar on top and serve chilled.