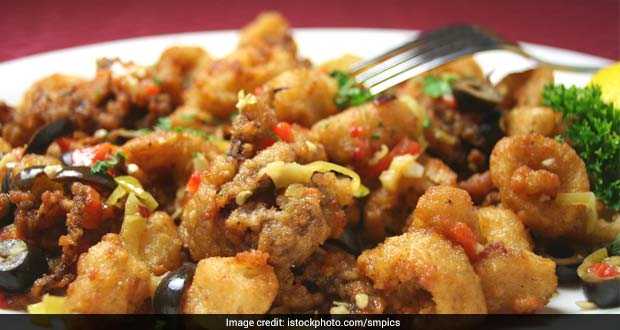 Kanava Thoran (Kerala Squid Chilli Fry)
Ingredients of Kanava Thoran (Kerala Squid Chilli Fry)
1 Kg kanava (squid)
1 onion
2 green chillies
1 tsp chilli powder
1 tsp coriander powder
1/2 tsp fenugreek powder
1/2 tsp turmeric powder
2 red dried chillies
A pinch of mustard seeds
1/2 sprig curry leaves
1 Cup coconut
3 Tbsp oil
How to Make Kanava Thoran (Kerala Squid Chilli Fry)
1.

Cut kanava into very small pieces. Slice Onion and green chillies.

2.

In a pan pour water and add kanava, onion and green chillies.

3.

Add salt to taste and let it cook. In a grinder add coconut, chilli powder, coriander powder, turmeric and fenugreek powder and grind once (dont make it a paste).

4.

Add this mixture to cooked kanava. In another pan pour oil and when its hot add mustard, red dried chillies and curry leaves.

5.

Add cooked kanava mixture into it and mix it for sometime. Garnish thoran with curry leaves.
Key Ingredients: kanava (squid), onion , green chillies , chilli powder, coriander powder, fenugreek powder, turmeric powder, red dried chillies, mustard seeds, sprig curry leaves, coconut , oil