Story Progress
Back to home
Khakra Canapes Recipe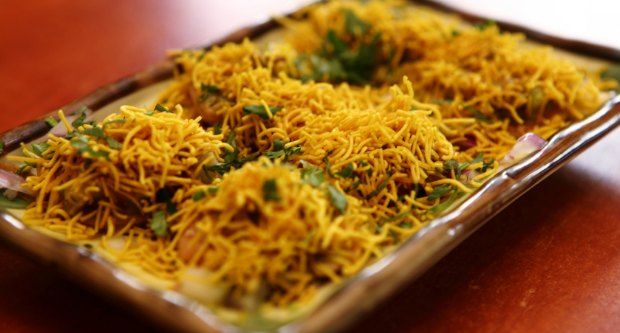 How To Make Khakra Canapes
Crispy khakras are topped with a spicy chaat mixture. Ready in a snap, devoured in a jiffy!

Ingredients of Khakra Canapes
12-16 mini khakra crisps
1 medium potato, boiled and peeled
1 medium onion, finely chopped
Salt to taste
1/2 tsp roasted cumin powder
1 tsp red chilli powder + for garnishing
1 tsp chaat masala
1/4 cup boiled corn kernels
2 Tbsp mint chutney
2 Tbsp tamarind chutney
Fresh coriander sprigs
Juice of 1/2 lemon
Yogurt for garnishing
Fine sev for garnishing
Mixed bell pepper juliennes for topping
1.
Chop potatoes and place in a bowl.
2.
Add onion, salt, cumin powder, red chilli powder and chaat masala, mix well.
3.
Add corn kernels and mix.
4.
Add together mint chutney and tamarind chutney, mix well.
5.
Add finely chop coriander sprigs and lemon juice.
6.
Place khakra crisps on a serving platter.
7.
Top each with a spoonful of chaat, garnish with yogurt, mint chutney, tamarind chutney and sev.
8.
Sprinkle some red chilli powder on top and crown with pepper juliennes.