Story Progress
Back to home
Laksa Pulao Recipe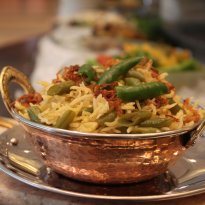 Aromatic rice made from french beans, almonds, herbs, masalas, veggies and laksa leaves. If you can't get your hands onto laksa leaves, just use mint or coriander leaves.

Ingredients of Laksa Pulao
300 gm fresh French beans
50 gm almonds
500 gm basmati rice
60 gm desi ghee (clarified butter)
30 gm laksa leaves, chopped
20 gm fresh turmeric, chopped
20 gm ginger, chopped
20 gm garlic, chopped
40 gm onion, chopped
3-4 fresh green chilli, chopped
A pinch of pepper powder for seasoning
A pinch of salt for seasoning
Garnish:
Sliced golden fried onions
Slit green chilli
Chopped laksa leaves
1.
Clean the french beans and boil until tender. Remove and place them into ice water to maintain crispiness and color.
2.
Blanch the almonds and then peel and slit them in half from the center.
3.
Clean and the soak the rice in water for 20 minutes.
4.
Heat the desi ghee in a pan, add the garlic, onion, ginger, saute till onions are translucent.
5.
Add fresh turmeric and green chilli and stir fry. Add the beans and laksa leaves. Cook till beans are done.
6.
Season with salt and pepper powder.
7.
Take a flat, thick bottomed pan, add oil and heat it to saute the rice for a minute. Add 500 ml of water, the sauteed vegetables, almonds and some chopped laksa leaves. Place over a very low flame till the rice is cooked (all the water should have evaporated from the pan)
8.
Spoon the pulao onto a platter, garnish with fried onions and green chilli. Serve hot with raita.
9.
Rajkamal Chopra is the Executive Chef at the WelcomHotel Sheraton, New Delhi.