Story Progress
Back to home
Liquid Fruit Salad Recipe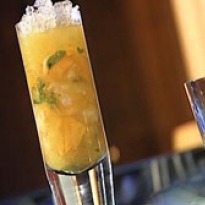 Vodka with fruits and a splash of lime juice.

Ingredients of Liquid Fruit Salad
45 ml French grape vodka
2-3 lychees, cut into bits
1/2 a peach, cut into cubes
5 cubes of mango
Few mint leaves
2 wedges of lime
Crushed ice
Splash of lime juice
Splash of lychee juice
Glass: Tall glass
1.
Put lychees, peach, mango and the mint in the glass.
4.
Pour the lychee juice, a dash of lime juice.
6.
Top with some more crushed ice. Serve!