Story Progress
Back to home
Maas Kohlapuri Recipe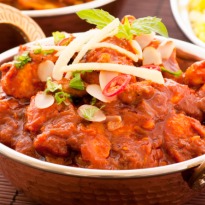 Kohlapuri mutton smeared with a ginger garlic paste and a variety of other sizzling spices. It's cooked in a pressure cooker till it turns soft, juicy and tender.

Ingredients of Maas Kohlapuri
750 gm mutton
20 gm turmeric
Salt
75 ml oil
1 bayleaf
2 gm cinnamon
1 gm cloves
1 gm cardamom
250 gm onions
10 gm green chillies
50 gm ginger garlic paste
200 gm tomatoes
20 gm garam masala
25 gm coriander powder
25 gm chilli powder
30 gm coriander leaves
For the paste:
100 gm red chilli
50 gm coconut
25 gm coriander seeds
50 gm poppy seeds
25 gm fennel seeds
20 gm pepper
1.
Grind all the ingredients for the paste.
2.
Slice the onions, puree the tomatoes, chop the green chillies and coriander leaves.
3.
Pressure cook the mutton along with the ginger garlic paste, salt and turmeric for approx 20 minutes.
4.
Heat oil in a heavy based saucepan.
5.
Add cloves, bayleaf, cardamom and cinnamon.
6.
Add the sliced onions and saute until golden.
7.
Add green chillies, tomato puree and saute for 5 minutes.
8.
Mix in the rest of the ingredients and cook for another 5 minutes.
9.
Add the paste and stir for 2 minutes.
10.
Add the cooked lamb and simmer for 10 minutes.
11.
Garnish with coriander leaves and serve hot.