Story Progress
Back to home
Malabar Cucumber Relish with Peanuts Recipe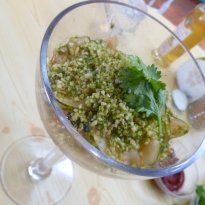 Cucumber slices are stirred in a syrupy paste of black peppercorns, fennel seeds and chili, sprinkled with a mixture of crunchy peanut crumble.

Ingredients of Malabar Cucumber Relish with Peanuts
1/2 malabar cucumber
1/2 a cup peanuts (freshly toasted)
1 Tbsp oil
2 Tbsp brown sugar
2 Tbsp white wine vinegar
1/2 Tbsp chilli paste
Pinch of salt
1 cinnamon stick
2-3 black peppercorns
1 pinch jeera (cumin) seeds
1/2 tsp fennel seeds
Juice of 1/2 a lime
1/2 tsp lime zest
2 green chilies
1 bunch coriander leaves
1.
In a pan add equal parts of sugar and vinegar.
2.
Add the black peppercorns, fennel seeds and chili paste.
3.
Add fresh lime juice and lime zest to this brine.
4.
Heat & stir until it begins to look syrupy.
5.
Slice the cucumber into thin slices.
6.
Add the sliced cucumber into the pan with the brine.
7.
Transfer into a bowl & cool.
For the chilly crumble:
1.
In a blender add green chillies, coriander leaves, salt, freshly toasted peanuts and blitz until it resembles bread crumbs.
2.
Garnish the pickled cucumber with this peanut crumble and fresh coriander.