Story Progress
Back to home
Mamma Toast Recipe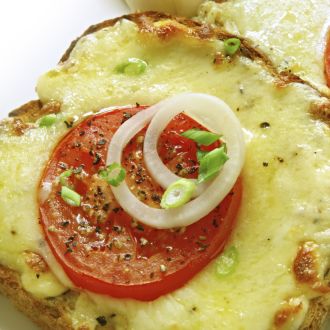 How to make Mamma Toast
A simple toast topped with tomatoes, potatoes and cheese then grilled in the oven, and sprinkled with oregano - it was the ultimate comfort food, and a complete meal, all delicately balanced on a slice of bread.

Ingredients of Mamma Toast
1 slice of bread (lightly toasted)
1 blanched and peeled tomato sliced into rounds
1 boiled and peeled potato sliced into rounds
Little butter for greasing
1 slice Cheese (we use cheddar or Gruyere but you can even use a slice of processed cheese)
Salt and Pepper to taste
Sprinkle of Oregano
1.
Place the buttered slice of bread on an oven rack.
2.
Arrange the sliced tomatoes on it.
3.
Now, place the potatoes on top of the tomatoes and sprinkle salt and pepper (remember that the cheese will be already salty so avoid using too much).
4.
Cover the vegetables with a slice of cheese and put in the oven to bake till the cheese is just melted and has some colour (shouldn't be more than 15 minutes).
5.
Lightly sprinkle with oregano.