Story Progress
Back to home
Maple Walnut Chiffon Cake Recipe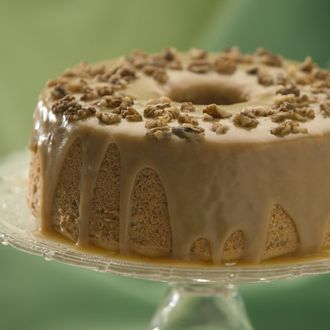 Immerse into the mouth watering taste of this walnut chiffon cake glazed with brown sugar. This surely is a treat to the eyes and well as your taste buds.
Total Cook Time

3 hrs 10 mins

Ingredients of Maple Walnut Chiffon Cake
Ingredients:
Cake
2 1/4 cups sifted cake flour
3/4 cup granulated sugar
3/4 cup brown sugar, packed
1 Tbsp baking powder
1 tsp salt
canola oil 125 mL
cold water 175 mL
5 egg yolks
4 tsp maple flavoring
1/2 tsp cream of tartar
1 cup egg whites
1 cup walnuts, chopped fine
Brown Sugar Glaze
3 Tbsp non-hydrogenated canola margarine 45 mL
1/2 cup brown sugar
3 Tbsp milk
1 cup icing sugar
1 tsp vanilla extract
2.
1. Preheat oven to 325 °F (160 °C).
3.
2. Sift together cake flour, sugars, baking powder and salt. Add canola oil, water, egg yolks and maple flavouring; beat until smooth.
4.
3. In separate bowl, add cream of tartar to egg whites and beat to form stiff peaks.Fold egg whites into flour mixture until just blended. Fold in nuts. Turn batter into 9-inch (22 cm) tube pan.
5.
4. Bake 55 minutes at 325 °F (160 °C); increase heat to 350 °F (180 °C) and bake another 10 to 15 minutes. Remove cake from oven and invert pan over cup or glass for 2 hours to cool. Turn cake right side up, run knife around edges and invert onto serving platter. Frost with brown sugar glaze.
6.
5. Brown Sugar Glaze: In medium saucepan, melt margarine, brown sugar and milk. Slowly bring to boil. Boil for 1 minute and remove from heat.
7.
6. Add icing sugar and vanilla; whisk until smooth. Drizzle onto cake immediately, as the glaze will harden when it cools.