Story Progress
Back to home
Monkey Gujiya Recipe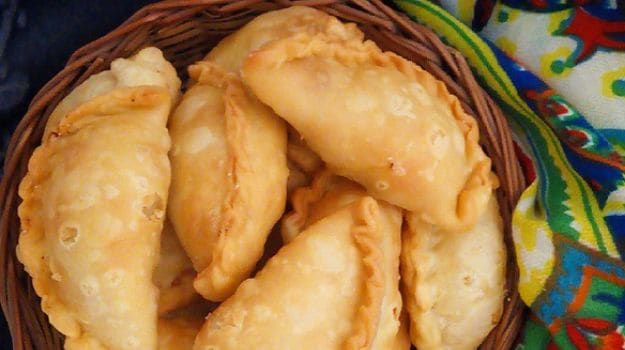 How to make Monkey Gujiya
About Monkey Gujiya Recipe: A cheesy version of the evergreen Holi snack, Gujiya! The festival of Holi is incomplete without gorging on the delicious Gujiyas and what's more apt than making it at home and giving it a special, different touch of yours. This exclusive recipe of gujiyas give it a cheesy touch with Ricotto, Cream and Mascarpone cheese along with the nuts and almonds stuffed and deep fried. Make your Holi a little cheesy this time and tell us how you liked it!

Ingredients of Monkey Gujiya
75 gms ricotta cheese
50 gms cream cheese
50 gms mascarpone cheese
160 gms sugar
15 gms almonds, chopped
15 gms cashews, chopped
30 gms raisins
2-3 gms cardamom powder
50 gms dessicated coconut
For dough:
500 gms refined flour
100 gms ghee
To garnish:
Dry cranberry
Dusted sugar
Prepare the filling:
1.
Drain the ricotta cheese in a cheesecloth line overnight in the refrigerator.
2.
Combine the cheese and the sugar in a heavy bottomed pan or a non-stick pan. The sugar will dissolve, and the cheese will begin to look liquidy in consistency. Cook the mixture, stirring it often for 20-25 minutes on medium-high heat, until the moisture completely evaporates. The cheese will leave the sides of the pan and will resemble a solid mass.
3.
Then turn off the heat and mix in everything else. Stir to mix evenly. Cool completely.
Prepare the dough:
1.
Take refined flour in a big mixing bowl and add ghee into it. Mix it well. Now add water in small portions and knead the dough to a stiff consistency. The dough should be stiffer than the kind required for making pooris. Less than ½ cup of water is usually needed for kneading the flour. Cover the dough and keep aside for 20 minutes to rest.
2.
Once again knead the dough well. Divide the dough into small balls. Pick each ball and roll it between the palms to make it smooth circular ball. Prepare the pedas. Lift a peda and roll it out into a 4-4.5 inch diameter poori with the help of rolling pin and stuffed with the filling prepared above. Fold over the disk to form a crescent shaped gujiya. Seal the sides of the gujiya with water and then pinch the sides forming an interesting pattern.
3.
Deep fry them on medium heat in ghee.
4.
Garnish with dry cranberries and dust icing sugar over the gujiyas.
Recipe Notes
You can adjust the quantity of sugar to your taste.
You can modify the ingredients for the filling in gujiyas according to your choice.
Read and try more of our Holi recipes here.