Story Progress
Back to home
Mawa Gujiya Recipe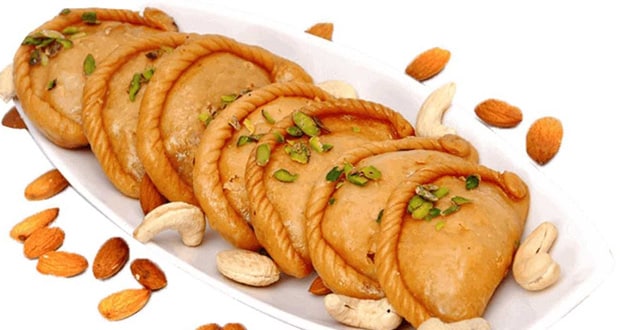 How to make Mawa Gujiya
About Mawa Gujiya Recipe | Gujiya Recipe: Relished during Holi, this delicacy is popular in the whole of North India – be it Rajasthan, Delhi, or Haryana. In fact in Uttar Pradesh, women are involved in large-scale preparation of this specialty. You can also make these mouth-watering gujiyas at home. Specially curated by experts from Salebhai.com, these Mawa gujiyas are a must for your holi party.

Ingredients of Mawa Gujiya
For dough:
Refined flour
1 tbsp ghee
Water
For filling:
2/3 cup khoya (crumbled)
3 tsp ghee
Oil (for deep frying)
1/2 cup dried figs
1/2 cup dates (seedless), chopped
10 Cashew nuts, chopped
10 Almonds, chopped
10 Walnuts, chopped
1.
Knead stiff dough using ghee, refined flour and water. Cover it with damp muslin cloth and leave aside for 15 minutes.
2.
For the filling, heat a non-stick pan and add the khoya and saute for three minutes till fat separates. Set aside to cool.
3.
Add the figs, dates, cashew nuts, walnuts, almonds, and mix well.
4.
Divide the dough and shape into balls, roll out each ball into a puri.
5.
Place a portion of stuffing into one side of puri, fold the other half and apply water to the edges to seal it well.
6.
Heat oil in a non-stick pan and deep fry till its golden brown.
7.
Store in an airtight container when it's completely cold.
Recipe Notes
You can modify the ingredients for the filling in gujiyas according to your choice.
Read and try more of our Holi recipes here.