Story Progress
Back to home
Mushroom Clear Soup Recipe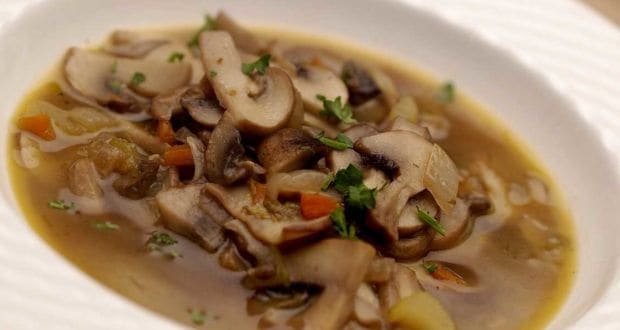 How to make Mushroom Clear Soup
A quick and easy recipe for a divine clear soup. The thyme and butter bring out the flavour of the mushrooms brlliantly.

Ingredients of Mushroom Clear Soup
Ingredients
200 gram button mushrooms
Few sprigs Thyme
1 litre water
1 tsp salt
10gm butter
Final preparation
to taste Sea salt
4-5 button mushroom
2-3 spring onion, chopped
1.
Wash and clean button mushrooms. Slice mushrooms along with stalk.
2.
Heat a stock pan on low fire add sliced mushroom, add butter to it and stir well so that butter get mixed with mushroom. Do not cook mushroom in butter just mix it roughly.
3.
Add water into sliced mushrooms. Increase the fire and bring water to boil. As water starts boiling again lower the flame and add shitake with water in which it is soaked.
4.
Add thyme and salt. Let it simmer for around 90 minutes on very low heat. Check a few times, see if the water is not boiling and should not have reduced too much. If water has reduced too much add some more. The final yield should be around 700 ml of soup stock.
5.
After scheduled time remove from fire and strain it with a fine strainer. Cool it down and store in refrigerator till needed.