Story Progress
Back to home
Oatmeal Cheese Straws Recipe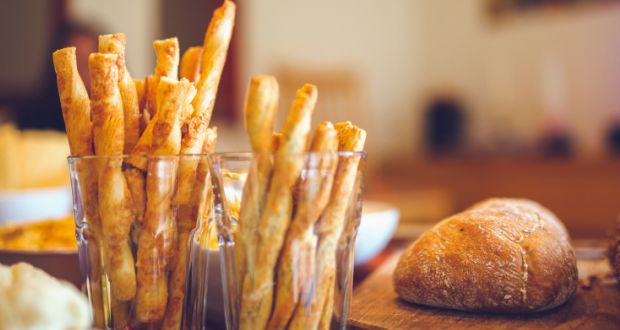 How to make Oatmeal Cheese Straws
About Oatmeal Cheese Straws Recipe: Crisp with the right amount of snap, the added coating of oats takes these cheese straws to another level altogether.

Ingredients of Oatmeal Cheese Straws
50 gms rolled oats (grounded)
50 gms flour
1/2 tsp baking powder
1/2 tsp dry mustard powder
A pinch of chilli powder
1 tsp crumbled kasoori Methi
25 gms chilled butter (diced)
80 gms cheddar cheese, grated
1 Egg
1 tbsp milk
1.
Sieve flour, baking powder, mustard and chilli powder together.
2.
Add the kasoori methi. Add the butter and rub into the flour mixture with fingertips until the mixture resembles breadcrumbs.
3.
Add 50 gm grated cheese and ground oats. Bind with enough beaten eggs to form soft but not sticky dough.
4.
Knead lightly on a floured surface until smooth. Cover & chill dough for 30 minutes in the fridge.
5.
Roll out on a floured surface to 1/4 inch thickness.
6.
Brush dough with a little milk and press on the 30 gm remaining cheese.
7.
Cut into strips 3" long and 1/4" wide and place on a lightly greased baking sheet.
8.
Bake in a pre-heated oven 180 deg cel/350 deg F, for about ten minutes or until golden in colour.
9.
Remove from the tray and cool on a wire rack before storing in an airtight container.