Story Progress
Back to home
Pasta Dough Recipe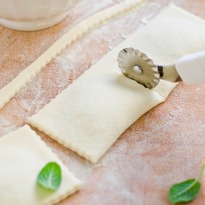 Role the dough into desired shapes and sizes cannelloni, ravioli, thin noodles etc and enjoy a fresh and homemade pasta.

Ingredients of Pasta Dough
1 cup flour
1 egg or 1/4 cup milk
1 Tbsp oil
Water as required
1.
Add salt to the flour, rub oil in and mix in the egg.
2.
Add water, a little at a time, to knead into a stiff dough.
3.
Rest the dough, covered, for half an hour or so.
4.
Roll as thin as possible, and cut into desired size and shapes -- thin noodles, tagiatelle (flat broader noodles), lasagne, cannelloni etc.