Story Progress
Back to home
Roast Chicken with jus lee Recipe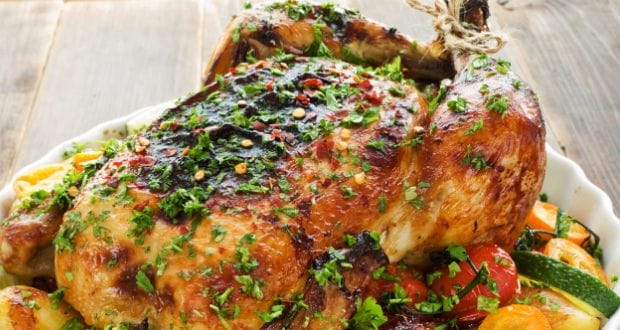 How to make Roast Chicken with jus lee
Roast Chicken with jus lee: This is a delicous recipe that non vegetarian Like. You need whole chicken, spices to bake it.

Ingredients of Roast Chicken with jus lee
1 Whole Chicken, cleaned
150 Onion, medium dice
75 Carrots, medium dice
75 Celery, medium dice
6-7 Garlic, Clove
1 sprig Fresh Thyme
Salt
Black peppper
50 Cooking Oil
Brine solution
1 Water
50 Salt
12.5 Sugar
1.
Brine whole chicken overnight or 4 to 6 hours in the brine solution.
2.
Preheat oven to 230 degree c.
3.
Lay the mirepoix in the baking tray, drizzle some oil, add salt, pepper, garlic cloves, thyme sprigs and mix it well.
4.
Place the whole chicken over the bed of mirepoix and sprinkle paprika powder all over the chicken .
5.
To roast: bake the breast side for 20 minutes at 220 degree Celsius then leg side for 20 to 25 minutes 180 degree.
6.
Once the chicken is cooked rest it 5 to 10 minutes in order to prevent loss of moisture if cut.
7.
Blend the roasted mirepoix left in the baking tray with the some fresh cream.
8.
Season wtih some salt required and serve along the roasted chicken